Betfair
- Claim £200 in free bets
- Open an account and deposit any amount up to £200 and Bet365 will match it.
- Claim £50 in free bets
- Open an account and place a bet of £5 and then £50
- Ladbrokes will match your 2nd bet of £50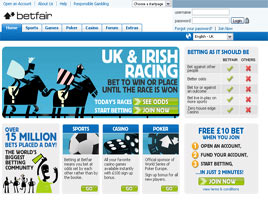 Betfair get your £25
Betfair are currently offering £25 free to new customers. The way it works is your first placement will be matched - upto £25 - with 3x free bets - upto £25 - available once you have placed an additional 10, 20 and 30 bets of £5 or more with Betfair. [Find Out More]
If you would like to take advantage of this offer please hit the button below;

Other Offers

Sportsbook Betting Offers
£200

£25

£50

£25

€22

£25

£20

£25

£30

£5

£25

£100

€50

£30

£25

£25

10%

£10

£100

£100

£25

£250

£25

£20

£25

£50

€25

£25

£88
Related Articles
Full Review
Information About Betfair
Betfair are quite unlike most bookmakers or sports books on the Internet. They are not oddsmakers, nor do they earn their income off customer losses. Instead, they are a "sports betting exchange," a matchmaker of sorts, who bring together bettors on either side of a wager and make their profits from commissions on winnings.
In just ten years, Betfair has gone from pioneering the Internet's first successful betting exchange to ranking as the world's largest international online sports betting provider. The company now has more than three million registered customers. It processes over five million transactions a day.
Technology has been the force behind this meteoric rise, but what sets Betfair apart from online bookmakers is their ability to offer an array of markets and odds that far outpace their competitors. If customers don't see a bet they wish to back, they can "lay odds" on the opposite side to attract a wager. In essence, this makes betting on just about anything possible. Complementing the sports wagering options are separate sections for horse racing, casino gaming, exchange games, arcade games, and poker.
The software applications used by the Betfair sports betting exchange are proprietary, licensed in the United Kingdom and Tasmania. English is the primary language on the web site, with five additional European languages supported. Deposits can be made in ten separate currencies, but the basic unit employed for wagering is the British Pound Sterling.
It may only have been founded in 1999 but Betfair has easily established itself as one of the major players. Press releases and industry tittle-tattle are not always to be believed but the numbers that Betfair talk in deserves to be heard. Claiming to be the UK's biggest online betting firm and the world's largest betting exchange, Betfair states they have over 1 million clients. An exchange has the benefit of offering improved odds if you can find someone willing to take your bet but is Betfair really deserving of the status it is supposedly held in?
It is very rare for a new face to make itself known in the world of sports gambling in the UK, dominated as the industry is by the Big 3 (Ladbrokes, William Hill, and Coral). A handful of sites have managed to push their way into the market, with Bet365 amongst them. Rare as that success is, however, it is even rarer for a company to put a whole new spin on the idea of sports gambling, which is exactly what Betfair has done with their strictly online operations. Let's take a look to see if it's somewhere worth taking your money to.
Ease of use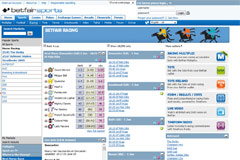 As it is an exchange, it can take a bit more time to get used to the Betfair layout. If you are more accustomed to the standard sites, you may need to take some time to get used to the layout but there are plenty of advice panels to walk you through the process. There is also a fairly comprehensive demo that pops up to give any new user an immediate lesson in how to use the site. This is a really good feature and whilst it lacks the immediacy of other sites, Betfair do their best to make their site as usable as possible. With a Betfair education section of their site and even Betfair Education events held regularly throughout the UK, Betfair take customer service very seriously.
Markets
With regards to the sports on offer at Betfair, there is a full selection and anything you want to bet on will be there. Not only that but all the additional events that you would expect for a full season or in-play can be found here, all with odds that can be determined by whatever someone is willing to wager against. You also can't argue with a betting site that allows you to bet on a sport that you haven't even heard of. The 'Petola' market had us searching online and it turns out there are a few variations on the game but it is a court sport played with a ball and a racquet, bat or a person's hand. So if you feel inclined to place a wager on a sport like this, then this is definitely the site to be on.
As is the trend these days, there is also a full selection of casino, poker and fun games to try your hand at. Being an exchange there is a slight twist and games like Hi-Lo sees the player betting on how a computer "player" will perform, as opposed to playing the game themselves. Normal service is resumed for games like 'Final Score' or 'Blackjack' where the user takes the more traditional role. In addition to these games, there is a 'Zero Lounge' available also which shows the best odds available.
Of course, betting on this site is unique because it's up to the punter to make the odds. You'll see the bets listed, and if you want to take one then you can feel free. If you think you can do a better job, then set up odds of your own. It is important to note that on Betfair, you don't have to take a team to win a game; you can also lay a team to lose! That's one of the hallmarks of this original concept in sports betting.
All of the world's major sports are covered. An entire section of the web site devoted exclusively to football, including league play from Argentina to the Ukraine, all of the big cup matches, and international friendlies. Live betting is available in real time as matches progress, too.
Also listed are markets for American football, Aussie Rules, Rugby League, Rugby Union, ice hockey, basketball, baseball, cricket, and more team sports. Individual competitions that can be bet on range from tennis and boxing to golf and motor sports, to name but a few.
Horse racing is well covered at Betfair, too, with special emphasis on racecourses in Great Britain and Ireland. Betfair Multiples provide a way to create racing accumulator bets. Those who enjoy betting via the Tote can do so from the web site using their Betfair wallets as well.
In addition to this, there is also Tradefair which allows people to bet on financial markets.
Opening offers
One promo only from Betfair, but it is a juicy one. Deposit £25 and you will be able to recoup your bet if the first wager you place is a losing one (up to £25). Very unique offer from a very unique site.
In order to qualify, the registration code BTE111 must be entered when signing up. After that, any first wager that is made up to £25, win or lose, will be matched by the deposit of bonus cash equal to the amount wagered. Certain restrictions may apply.
For new customers based in the U.K. only, using the code VTT300 will increase the bonus to £30. However, it will apply like insurance, covering just losing wagers, not winning ones.
Special Promotions
Those who enjoy wagering at Betfair can take advantage of a number of ongoing promotions. One of them is a luck draw called Prize Mountain, offering all kinds of merchandise up for grabs, including sports gear, electronics, apparel, and more. Points earned before 1 November, 2011 qualify for drawing entries—the more points, the more entries and the more opportunities to win.
Another points-based promotion is the "Fish & Chips" $70,000 Points Race on Betfair Poker. Prizes include a $1,500 Betfair Poker LIVE! London package for the top six finishers in addition to the $8,000 first place prize money. Anyone landing in the top 100 on the leader board wins a share of $60,000 in cash prizes.
Additional features
Betfair go the extra distance in spreading the word about their site and ensuring people know what they are doing on it. They also offer their service on your mobile phone, live scores and results, a Labs site to showcase some the ideas and developments they have in production, live football, tennis and horseracing and many other features. Betfair seem to provide everything is really needed and as long as you can get your head around the exchange system, there is no doubt that Betfair does live up to the hype it generates.
Customer Satisfaction
The Betfair Helpdesk and Telephone Betting lines are manned 24/7 by English speaking brokers and Helpdesk staff. For most other languages, bilingual representatives are available between 9am and 5:30pm (GMT), seven days a week. For Chinese clients, the hours are from 3pm to 5am Beijing time, in both Mandarin and Cantonese.
Any questions that customers have can be answered most easily via email. Every attempt is made to answer enquiries within four hours during Helpdesk hours. Existing Betfair account holder are requested to include their usernames in all correspondence.
All wagers made on the web site are matched by other customers, not by Betfair itself. The company knows who backs every bet made, but this information is maintained in strict confidence. Those making the wagers never know who they are betting against. In fact, there may be any number of bettors matching a single wager. For absolute privacy, Betfair have invested in a world-class Information Security Management System, which has received with ISO-27001 certification.
Should any betting or gaming dispute occur with regard to a Betfair product or market, Helpdesk operators will do their utmost to provide resolution satisfactory to all parities involved. Should their response be found unsatisfactory, customers have recourse to arbitration through the Independent Betting Adjudication Service (IBAS) as an independent third party.
User Reviews
Ramesh shah from india bombay
can I be a member to bet.if yes than Gide me how became a member. thx
daniel clarke
I want to join
jodie
i have placed bet and used code when signin up and havent got my free bet ? any idea as to why?
hasan
can i play from Bangladesh on betfair
Jose De Aguiar
I have just opened a new account with £10 do you not offer any promotions where you match the amount is deposited. Just asking as most of the other online bookmakers offer this promotion.
ashish sharma
how i open a/c in betfair
chris andrews
what is the minimum deposit to open an account.
Scott Dow
I signed up last night, deposited and staked £25, do i get this back as part of the `bet 25` offer?
Zefanya
Unfortunately we have no control over the corenuits allowed access to Betfair Mobile apps. This is a decision Betfair have taken, and hopefully as their Mobile customer base increases they will increase the number of allowed corenuits.
david cameron
How do i start
john quinn
how do I open an account.
David Neville
I would like to open an account today. Thank you, Davie.
Mike Smith
I believe betfair, like high-street bookies do all they can to discourage consistant winners. Trading on betfair is no longer viable, as they charge 60$ commission for those who make a profit?
John e fleck
How do I place a bet?
Andy fulbrook
Want to open an account
ian robertson
want to open an account
nachhattar singh
i am your member on phone line nn9611 like betting on mobile internet
denise floyd
like to open a account
Gerard Doyle
I want to get involved in laying horses on betfair what would be the best advice?.
david hoare
its good except i couldnt find a price for tony adams to be sacked.thank you mr dave hoare