Mecca Bingo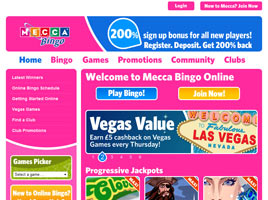 Collect Up To £50 Free
It's simple to get this bonus, first you need to register a new account (ensure that it is a real money player account). Below are a couple of examples how the 200% bonus works at Mecca Bingo;
1st deposit £10 - and spend £10 [you receive a £20 bonus] OR
1st deposit £25 - and spend £25 [you receive a £50 bonus] OR

bonus format: [£10 >> £20F] OR [£25 >> 505F]

Browse Other Offers

Bingo Bonus Offers
£25

£25

£25

£10

£20

£25

£20

£45

£15

£10

£10

£100

£20

£50

£20

£30

£20

£150

£100

£40

£25

£50

£100
Related Articles
Full Review
Introduction
Are you a fan of bingo? Ever wondered who it was that brought this game and commercialized it so that everyone could enjoy their time in the halls when they felt like it? Well, wonder no more. Mecca Bingo was the first commercial bingo establishment to be built in the UK, courtesy of entrepreneur Eric Morley (founder of the Miss World pageant as well). Morley brought the game to the high streets back in the 1960s, and he also championed the game throughout his life and helped turn it into the popular national past time it is today.
About Mecca Bingo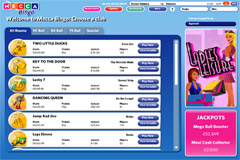 The bingo empire Mecca boasts today includes 120 shops all over the UK, which all told house over three million members. The Rank Group recently partnered with Mecca, making the company one of the most powerful gaming establishments to be found. While Mecca Bingo was a pioneer in the brick and mortar bingo industry, the same is not true for the online bingo niche. In fact, the Mecca Bingo site did not open its virtual doors until 2005. Well letís see if it lives up to the hype and lets play bingo.
First off, the landing page. Bright colours and well defined borders are the trademarks of the Mecca site, and we think it suits the prevailing notion of the bingo hall beautifully. The sections are easily navigated, and include not only the bingo options on a tab menu but links to Meccaís jackpots as well. In fact, when it comes to sheer layout simplicity, Meccaís site is one of the very best we have seen.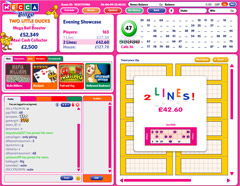 Despite our initial pleasure at the presentation of the Mecca page, we were a little taken aback when we clicked on the Play Now button and found that you had to register with Mecca in order to play. Itís always nice for a site to offer visitors a chance to get a feel for the experience on tap before they have to give away details, but it appears Mecca wants you on record!
Of course, eventually we were going to register anyway, so we made full use of the navigational link contained in the warning message. A few bits of information and we were in; not overly arduous to be sure.
Right away, we saw that sign up did not necessarily mean we had to pay for our spot of bingo fun. To the contrary, there is a nice menu of free bingo games that one can play on the Mecca site. Oddly enough, however, 90 ball bingo (the game which built the empire) was not amongst these offerings.
Often we have found online bingo halls to be quite mundane, as they all make use of the same proprietary software. However, Mecca Bingo has developed software of its own, which set it apart from about a dozen other sites out there. One complaint is that the game play provided by this software can be a bit choppy, but it works well enough most of the time. Itís also nice to see that Mecca is usually quite a busy site; it gives the online bingo experience the social spin so important to the game, and increases the prize money as well!
Mecca Bingo Bonus
Those who like bonuses (who doesn't!) will love what Mecca Bingo has to offer. There is an incredible 200% sign up bonus up to £25. Play through that £25 within a month, and you get £50 more from the site. Thatís a lot of bingo! There are also some great weekend bonuses including a £10,000 Friday giveaway (one qualifies by spending £ten a day from Monday to Thursday).
A nice landing page, a reliable name, chat features and juicy promotions all combine to earn Mecca Bingo big points in this review.
User Reviews
Tina
Its a good place to play - plus their bonuses work unlike some companies.
Chi
excellent,, one of the nicest place to play. But why havent I won anything yet. . just unlikely I guess :-(
XxX-ZoE-XxX
Wheres the other brands? oh well Mecca Bingo is about the best out there... Plenty of fun people to chat too and great prizes. I won over £60 last week!!.