Sportingbet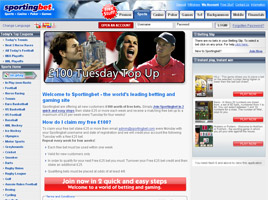 Get £100 with Sportingbet
With Sportingbet you can claim up to £100, this works by collecting a maximum of £25 each week for an entire month. This £25 is added to your account each Tuesday, to get each weekly £25 you must place £25 and then it will be matched by Sportingbet.
Note that in order to get "Tuesday Top-Up" your £25 free each week you must send an email to admin@sportingbet.com every Monday along with your username, and expect your account to be updated the following day. Free oferings must be used that week in order to receive further bonuses, Qualifying placements must be made at odds at a mimumum of 4/6.
bonus format: [£25 >> £25F] x 4

Other Offers

Sportsbook Betting Offers
£200

£25

£50

£25

€22

£25

£20

£25

£30

£5

£25

£100

€50

£30

£25

£25

10%

£10

£100

£100

£25

£250

£25

£20

£25

£50

€25

£25

£88
Related Articles
Full Review
Information About SportingBet
Like a lot of other companies, Sportingbet can call upon a decades worth of experience in order to provide a strong service to their customers. With supposedly one million stakes a day being placed on the site, there are clearly a lot of users who like this website.
Ease of use
A lot of work has gone into the presentation of the site and this means quite often you can find what you are looking for, If you are in a hurry or perhaps struggle with small writing, the graphical content of the site can be of benefit. There are a lot of summaries attached to items on the main page but when you get to the individual market page, it reverts back to the standard layout. For a site that has a lot going on, it looks good and never feels too cluttered. It is always possible to find out where you want to go to next and its easy to click between sections.
Markets
The Sportsbook covers all the major sports and offers a few variations on each individual sport. There may not be a focus on more obscure sports like many sites offer but all the major ones are well covered. There is also a lot of in-play betting offered by the site and with American and European markets covered, there is likely to always be something available to bet on live.
The Casino element is under the Paradise Casino brand and there are over 50 games to choose from.
The number of games on offer compares well with any site and the graphics and speed of games is highly commendable. Newbies will probably find they can get many hours of fun from playing the games that are available at Sporting Bet.
With financial markets, backgammon games and 1v1 games, there is a huge range of markets and different options available on the site which will keep everyone satisfied.
Opening offers
Sportingbet offers a £50 risk free bet. If a new member places their first bet on a football match in August and September and they lose, they will have their bet (if it was between £10 and £50) refunded to their account.
For a minimum 5 euro deposit to your Poker account, the site will offer you a 100% free credit bonus up to 500 euros.
Additional features
Sportingbet offers it site in a wide range of languages making it the site for many people across the world to choose. The site makes a big play about the free stuff it offers but at the time of checking, the only thing in the Free Stuff section was a chance to win a holiday.
The site offers online video games (which look to be of decent quality) which players can play for fun or for bet credits and game credits. This function can be used to play people around the world adding a fun dimension to the site and making it one you would be likely to tell your friends about.
There is also a mobile facility offered by the site.
User Reviews
L Pridmore
If I open an account with you can I bet on next seasons Champions League and do you offer each way betting i.e first or second place wise. Thx