Stan James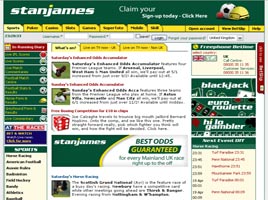 Get £25 with StanJames
Getting your free £25 from StanJames is quite simple. To start with you will need to open a new account at StanJames, then you will need to deposit fund and place a stake. Following this StanJames will match this first stake for up to £25.
You can only make use of this offer when a new account is created with StanJames, existing customers can not apply for this. This bonus is only valid for sportsbook.
bonus format: [£25 >> £25F]

Other Offers

Sportsbook Betting Offers
£200

£25

£50

£25

€22

£25

£20

£25

£30

£5

£25

£100

€50

£30

£25

£25

10%

£10

£100

£100

£25

£250

£25

£20

£25

£50

€25

£25

£88
Related Articles
Full Review
About StanJames
Stan James are a much respected name in UK gaming and the site certainly considered itself to be at the forefront of internet betting.
Ease of use
The first thing to hit you about the Stan James website is that there is an awful lot of reading on the home page. There are a lot of options discussed but this means there is a lot of small text. If you donít like to read or find it hard, you can be put off this site very quickly.
It can be hard to find out further information from the site about how to contact them or to learn more about the background of the company. Most sites have a fairly easy to spot 'About Us' section and contact options but Stan James are not quite as forthcoming with these issues. Once you find it hidden away in the Help drop-down, it is not a problem but it could be more accessible, especially for new members who may need to contect them.
Hidden away is a handy tips and guideline explanation of how the site works and how to get the best from its use, these work very well.
Markets
Due to the slightly crammed nature of the front page, it can be hard to take in all then Sportbook options but it is fair to say that the majority are covered here. Stan James considers themselves to be market leaders in price and Sportsbook options. It may be a bit much to say they the best out there but they certainly run with the pack with regards to options and numbers.
The in running facilities are based upon which sports are available to watch on television somewhere which should narrow its choice. It doesnít due to the fact that there is a phenomenal amount of sport carried live on a myriad of channels these days but it will be interesting to check the live in play options when the football season starts again properly.
There is no Lottery or Bingo options offered by the site but everything else is on show. Casino, Poker, Slots, Games and Skill games are all part of the fun for Stan James customers. The graphics of the games are a bit basic but they play well and lose nothing due to this.
Opening offers
The opening offer provided by Stan James will offer a free matching bet to any member up to a value of £25.
Registering with the Casino allows players to earn up to £100 with the only conditions being that a player has to play on a certain number of games.
Additional features
Cricket commentary and At The Races watch and listen facilities are offered. In addition to this, there is also a mobile facility offered by the site.
It is not much to look at on first glance but with repeated visits, the ease and simplicity of the Stan James site comes to the fore and it is simple to make a number of bets at one time.
User Reviews