About Unibet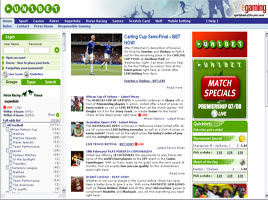 Collect £20 with Unibet as a new customer
Unibet are currently offering a cash bonus, which means you can collect up to £20 for free simply by signing up. To take advantage of this offer you need to register with unibet, then deposit money £10 into this account. Then you must then transfer these funds in to your unibet casino account. The amount (x) will be doubled as casino bonus money (with a maximum of £20). For example, if you deposit £30 - you will receive £30 as a bonus (ie. 100% bonus).
Please note that this offer is for a limited time only to new customers.
bonus format: [£10 >> £20F]

All Offers

Sportsbook Betting Offers
£200

£25

£50

£25

€22

£25

£20

£25

£30

£5

£25

£100

€50

£30

£25

£25

10%

£10

£100

£100

£25

£250

£25

£20

£25

£50

€25

£25

£88
Related Articles
Full Review
Who are Unibet
With over 1 million customers, Unibet are one of the largest bookies. They have a huge European market and offer a wide range of products. Their website is continuously expanding and recently took over sponsorship of a cycling team to make it the Unibet cycling team.
Unibet's key markets are in Scandinavia (in particular Sweden) and has really expanded in the past few years. They include all the lastest games and products one would expect from a leading company including their latest addition Bingo.
With 26 different languages on offer before you even get to the main page, you know that Unibet are a bit apart from the average. It is a concern though they offer two English versions - one for the United Kingdom and one for Liverpool. It turns out it is the official Liverpool FC betting site so if you are not a fan of the Reds ensure you avoid this version. The mechanics of the site are the exact same though so no one misses out whatever option they choose.
Ease of use
The Unibet site is really easy to use, there is a lot going on but the colours are crisp and there is plenty of space to see everything, it's a very well designed site.
Markets
At the time of review the site had three and a half thousand bets available in their book and just about a third of these were relating to football. Thatís still a lot of football bets but it does offer plenty of variety for non football fans. The balance is well met to satisfy both types of punters. There is also a handy listing of how many live betting options are currently available which gives the user an immediate focus.
There may be no Lotto or Bingo options but the Casino, Poker and Games options are well designed and catered for.
There is an excellent range of Skill games including variations of Tetris, Breakout and Pool along with the more obvious games. In addition to these there is also the option of scratch cards if you just canít get enough action.
Opening offers
There is nothing on Unibets site to suggest there is an opening bonus although we can confirm there is €100 up for grabs for new customers to Unibet.
Transferring money into the Casino section will allow any player to earn up to 100 euros on a matched bet.
Additional features
Like many sites, Unibet now offer the option of using the site through a mobile phone. The site also offers the standard range of live scores, results and statistics.
For those members who rack up a number of Poker points, the opportunity to get spending in the Unibet shop may be worthwhile. With a range of goods including retro football tops, barbecue items, electrical goods and much more, there is an incentive to keep on playing even if your luck isnít in.
User Reviews
Perry
yes this works my £50 was matched