William Hill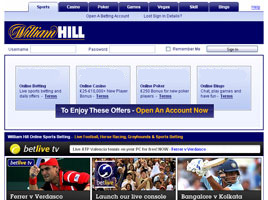 How To Claim Your Free £25
To get your £25 for free, go to William Hill and register and place a mimimum of £25. They will simply match that amount once that deposit has been made. Note that they do not fully match placements under £25, for example stakes between £10 to £24 will be match with only £10.
This offer is for new customers creating a new account at William Hill only.
bonus format: [£25 >> £25F]

Browse Other Offers

Sportsbook Betting Offers
£200

£25

£50

£25

€22

£25

£20

£25

£30

£5

£25

£100

€50

£30

£25

£25

10%

£10

£100

£100

£25

£250

£25

£20

£25

£50

€25

£25

£88
Related Articles
Full Review
General Info About William Hill
Dating back to 1934, William Hill is synonymous with UK gaming and is an instantly recognisable name and brand. This has been carried through to their internet site and many people have stuck with the company due to a long period of use. That said there are many good reasons for a one to frequent the William Hill site and not just out of loyalty. Online sportsbook William Hill claims to be the 'Home of Online Betting'. Wondering if this home is a place your heart could bet on? Hereís our review of the William Hill site for you to determine how it stacks up against its competition.
History
As you probably know if you have placed a bet on any kind of match, William Hill is one of the most recognized names on the high streets. Founded strictly as a bookmaker in that year, the company has grown throughout the UK and onto the continent as well, currently operating several books in Spain. Today, the company processes just under 900,000 betting slips every single day!
With those kinds of numbers behind it, itís not hard to believe the William Hill claim as one of the premier players in the online sports betting industry. The rapid growth of the Internet site is indeed impressive, and William Hill has an offering that has allowed that growth in just over one year of operations!
Ease of use
It's a simple site with chunky graphics and logos that make it easy to see where you want to go to. Its all a bit cartoon like but this does make things stand out and makes them easier to find if you need to do so in a hurry. The site is obviously bedecked in the brand colours of William Hill which is a bit dark but on the whole, the site should not possess any difficulties for a user.
Markets
The Sportsbook does not descend into the variety that Bet365 dabbles in but the vast majority of mainstream sports are easily found on the William Hill site. The In-play console they offer limits the amount of live games they will allow a placement on but what is available usually has a number of options.
The other options include the popular Casino, Poker and Games section. Confusingly, William Hill also offers a Vegas section which contains roulette and many of the features that could easily be accommodated within the Casino section. They clearly want to draw attention more to the Live element of some of the games but it does seem a little bit of a gimmick. Like most other brands, there is also a Bingo section to keep the nation's bingo population happy.
As far as those sports go, you will find all the usual suspects covered, and fairly well, on William Hill. Still, the average sports bettor will probably find what they are looking for as far as major European and North American sports on the site, as well as some rarer gems (UFC, Gaelic football, and hurling among these).
The lines William Hill offers are usually slightly better value than other sites, again presumably to entice bettors over from companies that have been established for a little while longer. Itís also nice to see an option which allows a user to change the odds from fractional to decimal and even American, so you can bet the method you are most comfortable with.
Once you select the sport you want to bet on, you are taken to another page which again contains some solid information as well as tabbed menus allowing you to pick the league, teams, or tournament you wish to bet on. Again, a nice clean presentation allows for some easy navigation getting to the bet you want on your slip.
Opening offers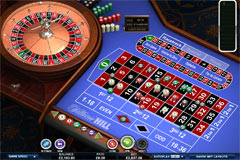 The opening offer in the
Casino
is a bit more complicated than most sites but it does offer the potential to earn up to £10,000 in free bets. This is clearly not too common and requires a lot of aggregate bets but it is a step apart from many of the rival sites that William Hill competes against.
There is an opening offer in Poker when a player downloads the Poker player and this can be worth up to £250 for a new member. There is also the option to earn an extra £100 in bonuses each month through using the Poker software.
William Hills are trying to go the extra mile with their bonus provisions and this could see them tip the balance in comparison with other sites.
Additional features
The option to play in Sterling, Euros or US Dollars is a nice touch that may not be wanted by many players but it is something a little bit different.
With BetLive TV, Racing TV and Greyhound TV, William Hill offers up a large variety of viewing options to keep members on their site tuning in and with Mobile Betting and Lotto options thrown in at the end too, there is a lot to be said for the offerings that William Hill provide.
User Reviews
Stuart Bruce
When get my free bet do I get free one every week
kevim
does william hill accept ukash voucher
If I deposit £250 how much bonus will I get
Simon
If I deposit £24 does that mean I will be able to play with £34? (bonus of £10). And also, what are the wagering requirements for this sort of bonus?
tien Thanh Doan
I want play.
steven goodey
i signed up last week but i never got a bonus
Mike
To William:
a £20 stake would be upped to £30, but a £25 stake would be upped to £50.
William Lavin
As a new customer does your offer of matching my first bet amount mean that for example if I have £20 on Chelsea to win next seasons Champions League you automatically up it to &40 win ?