Diamond Car Insurance
Road Search
Car Insurance Companies
About Diamond Car Insurance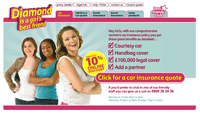 Diamond offer great rates for female drivers, and you've probably seen their massive TV ad promotion going on at the moment.
They offer female drivers better rates than other insurance companies because women's claims cost less. You are also allowed to add your partner on to the policy and could save. The advantage Diamond has are as follows;
You can add your partner to your current policy even as a named driver.
A hassle free claims service
We offer handbag cover for free on comprehensive policies with bag and contents covered up to £300.
Diamond supply a 24 hour emergency helpline for customers.
They offer a free courtesy car on comprehensive policies when using one of Diamondís approved repairers
With comprehensive policies Diamond give unlimited windscreen cover.
Get a quote now! Plus save up to 10% extra online at diamond.
Products from Diamond
Car Insurance: [view rates]

User Reviews