eCar Insurance
Road Search
Car Insurance Companies
About eCar Insurance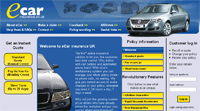 eCar offer a great hassle free service, these are some of the features of their service;
They have no call queues, or having to wait while you're put on hold, no endless questions, just expect great rates service and flexibility.
All of our comprehensive policies include legal cost cover, breakdown assistance, and European driving as standard.
eCar insurance offer a Bonus Accelerator - earn 1 years No Claim bonus after just eight months on pay-as-you-go policies. Also, if a customer has earned a full No Claims Bonus, we will guarantee this for life.
eCar is only an online service. This makes is easier to purchase, amend or renew your policy - plus you can do this at any time. Savings is passed onto the customer in the form of lower premiums.
We offer Pay-as-you-go policies. These are a niche product since they provide insurance on a month by month basis, and allows the customer to stop / start their policies when they choose.
Products from eCar Insurance
Car Insurance: [view rates]

User Reviews