Norwich Union
Road Search
Car Insurance Companies
About Norwich Union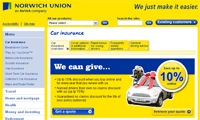 Norwich Union are one of the UK's largest insurance companies - they insure 1 in 7 vehicles on UK roads. They can offer you flexible car insurance cover from a trusted name. In fact if you stay claim free with us for 5 years, your premium will be discounted by 70%.
When you take their car insurance, they guarantee that there will be no forms to fill in when making a claim, no estimates to obtain and they are available any time of day.
Norwich Union offer £100 cash back when you insure 2 or more cars. They allow named drivers to build up a no claims discount so they can take advantage of this when they take out insurance in their own name.
With Norwich Union Direct, we offer a flexible, reliable service that you can trust. We constantly monitor the market to ensure we provide the best possible deal, offering excellent cover at great prices.
Norwich Union offer great customer care - here are their promises;
Recieve a 10% online discount by getting an quote now
Our staff will make things as hassle free as possible
We will always be available for a claim, by phone any day of the year.
You won't have to fill forms if you need to make a claim.
You will not have to get estimates for repair work after a crash.
Products from Norwich Union
Car Insurance [view rates]

User Reviews