Class contact details
Si-Gung Mesach Alim
Chief Instructor / Sifu
School : Great Portland Street
Address : International Students House, 229 Great Portland Street, London
International Students House: 020-7631-8300
Mobile : 07727 031 802
Email : sifu@northernmantis.co.uk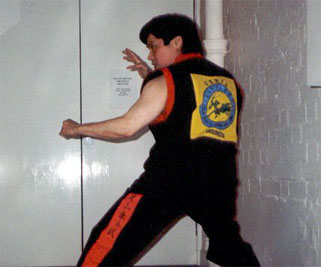 For all comments or enquiries regarding this web site or content please contact me at Mantis@NorthernMantis.co.uk.
I have been studying Corja Shantung since June 2001. I have been to a couple of different karate schools before but the style of teaching and general attitute of the students and instructor wasn't what I was looking for, so I started researching different types of martial arts and decided on Northern Mantis. I was lucky to find Corja Shantung (from the BCCMA Web Site) and rang the school to see if I could attend classes. I thought I was fairly fit after going to the gym for 2 years but my first lesson was really hard for me and I realised how unfit I was!
In the school, aggression is strongly discouraged and students are encouraged to overcome obstacles such as shyness. The training is hard and I would highly recommend Corja Shantung if you are serious about learning kung fu - you will be pushed every week to be faster, fitter and more flexible. The Sifus have a very high calibre of kung fu and are all very approachable, they will come and help if you are doing a technique incorrectly. Please feel free to e-mail me if you would like to know any more information on the school from a students view-point.