Bet365 Casino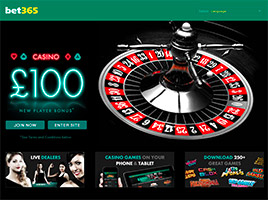 Claim this £100 here
New users of Bet365Casino facilities will be eligible to receive a generous bonus of £100 upon opening their casino account. All new customers have to do is register with Bet365 and deposit or transfer a minimum of £10 into their Casino wallet. Users wishing to receive a bonus code allowing them take part in this offer must select the relevant offer code when making their deposit or transfer.
Players must then 'play through the amount of their deposit/ transfer plus bonus 20 times.' This should be completed in a maximum of 30 days or risk the deal being forfeited. Terms and conditions concerning this bonus offer can be found on all relevant advertisements, or by selecting the 'Promotions' tab on the casino toolbar.

Other Offers

Casino Bonus Offers
£160

£100

£200

£1000

10%

£800

£200

£100

£150

£150

£125

£500

£100

£100

£200

£150

£175

£100

£150
Related Articles
Full Review
Bet365 Casino - Big on bonuses from a name you can trust
The online arm of Bet365 was established in 2000 by Denise Coates, the retail outlets having originally been founded in 1974 by her father John. Bet365 is now a solely internet based business with the family having sold their chain of betting shops to Coral back in 2005. The brand can boast being the gambling service of choice to over 14 million users in around 200 countries across the globe. Part of the Bet365 Group is bet365 casino, a 'high-class' online casino games operation that is part of the company's 'one wallet' portfolio. Customers can deposit funds into their account before using this cash to bet on sports or play casino, bingo, Vegas or poker games.
Roll the Dice!
Not only does the bet365 casino homepage look stylish and tempting, it is incredibly easy to use. With promotions sailing across the top, the main body of the page is divided up into selectable icons that lead the customer directly to the relevant game page. By selecting an option from the left hand side, customers can filter out undesirable types of games. The categories of these games include 'Featured Games', 'Slot Games' and 'Card Games'; 'Table Games', 'Video Poker' and 'Games & Keno'. There is also a tab for jackpot games. There are approximately 170 games accessible from this homepage, scrolling down further will see these playable options in a list formation rather than the interactive icons.
Should the game have an increasing jackpot, this can be seen before the customer registers for a table. At the time of writing the biggest pot up for grabs was for the 'Beach Life' game with a jackpot of nearly one and a half million pounds, whilst the smallest was 'Mega Jacks' with a meagre £350.
Those with penchant for the familiarity of themed games won't be able to get enough of the choice available in the bet365 casino, with a style sure to reflect every member's televisual or filmic interest. At present there's everything from 'Marvel Roulette' to 'Deal or No Deal World Slot'; 'Sherlock Mystery' to 'Top Trumps World Football Stars'; 'Britain's Got Talent' to 'The Superanos', each room being dressed to compliment the chosen theme.
By selecting the 'Live Casino' tab at the top of the page, it is also easy to access the company's stream direct from the casino floor, allowing the user to interact with a live dealer and enjoy the luxuries of the casino without leaving the house. The service can also be downloaded as an application to iPhones, iPads and Android devices with Bet365 promising to provide users with 'glamorous dealers' and an 'exciting gaming experience ... 24 hours a day, 7 days a week'. Should the user be selecting their preferred game from the homepage icons, the live games are clearly marked with the word 'Live' and the type of game in a green bubble.
Perhaps the real point of difference with bet365 casino is the sense that help is always around the corner should an inexperienced player or inquisitive customer become stuck or need a hand. There a 'Chat' icon at the top of the homepage alongside a drop-down menu for 'Services' that contains both 'Chat' and 'Contact us' features. Both are easily accessible should the question that requires answering arise mid-session or tournament.
Customer Service
Users of the bet365 casino service can enjoy a generous amount of deals and promotions that apply to games across the casino platform including blackjack and slots. The following offers can be obtained by selecting the 'Promotions' tab at the top of the homepage.
The most eye-catching promotion advertised on the 'Promotions' page is the £3,000 bonus bundle. By entering the promotion code 'BONUS3000' with every deposit and transfer, the customer will receive a bonus of 20 per cent. These bonuses can be claimed up to four times a week with a maximum of £3,000 a month being redeemed.
Each deposit must be in excess of £50 to be eligible under the terms of the deal with the player not having more than £10 in their account prior to the transference/ deposit. All bonus coupons become invalid after 30 days and must be played through 25 times before becoming available for withdrawal. Further terms and conditions can be found on the relevant promotion page.
There is also a points system, rewarding the most loyal users of the Bet365 casino with playable cash and the opportunity to earn gold, silver or bronze status. 'Comp Points' are earned by customers with each penny spent on the casino's plethora of games with the maxim being that the more the customer spends, the more points they can accrue. Every 100 points accumulated can be converted back into 1 currency unit with each game being worth a different amount to the user's points tally. Not all casino activities are involved in the promotion. To check out which are and the values of those that are, seek out the 'Comp Points' page via the 'Promotions' tab. Further details of the rewards scheme, including terms and conditions, can also be found here.
Staking up 50,000 points will see the loyal achieve bronze status and reap such rewards as monthly deposit bonuses, £50 worth of casino chips and a 'Comp Points' conversion rate of 100 points to £1. Bronze members will also receive promotions tailored to their wagering activities.
Silver members, those with over 100,000 points, earn bigger deposit bonuses, £100 worth of casino chips and access to 'Bonus Suite' offers; a 'Comp Points' redemption rate of 85 points to £1 and more tailored deals.
Upon racking in a quarter of a million 'Comp Points', Gold members will enjoy £500 deposit bonus, a personalised template and a 'Comp Points' conversion rate of 75 points to every £1; £1,500 free chips upon hitting one million points, communication with the VIP account managers and first class hospitality at a range of sporting events.
The VIP Scheme promotion page should be consulted for further information on the gold, silver and bronze memberships and the relevant terms and conditions.
Bet365 are also proud of their efforts in bringing their casino function to the nation's tablets and mobile devices. All games are compatible with Apple and Android technology with cash back frequently awarded for those who regularly access the casino on the go. Alongside these long-standing commitments to value, bet365 casino also run a series of monthly chances for their customers to receive cash back,deposit bonus and other treats. Keep an eye on the 'Promotions' page for the latest!
In Summary
What's not to love about bet365 casino? Nobody can underestimate the importance of dealing with a reliable brand and those already signed up with bet365 casino will know this more than anybody.
There's a wide variety of tantalising promotions with a number of themed games and the awesome 'Live Casino' function. What's more, it's all displayed with style and with a focus on clarity and transparency.
The new, or less technologically able, punter will also be overjoyed with the presence of the 'Chat' button meaning that help will always be at hand should an unforeseen issue surface.
User Reviews