Betfred Review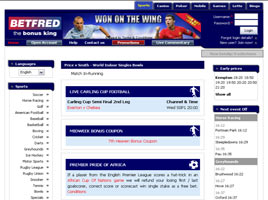 Click to take advantage of this offer
Betfred are offering £50 free to every user who signs up. The way it works is your 1st placement will be matched - upto £25 - with 3x free placements - up to £25 - available once you have placed an additional 10, 20 and 30 bets of £5 or more with Betfred. [Get This Offer Now!]
If you would like to read more information about this offer please press the button below.
bonus format: [£50 >> £50F]

Other Offers

Sportsbook Betting Offers

View Offers
T&Cs Apply, 18+
£25

£50

£25

€22

£5

£20

£25

£30

£30

£5

£25

£100

€50

£25

£25

10%

£10

£100

£100

£25

£250

£25

£20

£25

£50

€25

£25

£88
Related Articles
Full Review
Information About Betfred
Betfred was founded in 1967 giving it a serious history in its industry and has over 700 shops in the UK. The company also has an online presence and they claim to be the world largest privately owned betting firm. Many football fans will be aware of the company as they have official bookmaker and betting partner right deals with Wembley Stadium and Manchester United.
Ease of use
The site has a very clear layout that is easy to navigate and is very simple to use. The menus are clearly labelled and the betting process is the traditional click box variety. It may not grab your attention but the Betfred website is quick and efficient, perfect when you need to make a quick decision on a live game.
Markets
With the market already open for who will win the 2010 World Cup, the variety of football bets and specials that are available on Betfred make it attractive to keen football fans who want a little more. There are a huge range of football specials that are not available on rival sites including League title doubles featuring England and Spain or specific bets on when the big 4 teams will lose or who will have the longest unbeaten run. Its additional quirky bets like this that have helped Betfred establish themselves as an innovative and stand alone option from their peers.
The full range of sports may not be able to compete with ladbrokes or Betfair but there is enough to satisfy the vast majority of online punters. Some people will take a punt on anything if they like the odds but Betfred keeps the sporting options a bit simpler than some sites.
There is a massive range of other betting options available though and the Games selection boasts a large variety of options to catch your eye. In addition to Casino and Poker games and the increasingly popular Bingo option, Betfred offer many Lotto options. The ability to place a fixed odd line on the balls that will feature in upcoming Irish, 49s, Spanish, Canadian, French, German or Greek lotteries will keep any lotto fan happy with their lot!
Opening offers
Subject to terms and condition, new members of the site can get up to £100 in free bets. The first free bet will be a match of your first deposit up to £50; the second element requires the user to make 5 deposits of at least £10 each to obtain another £50.
Like many of its peers, additional opening offers are available for the separate markets offered by Betfred. The Casino element offers a 100% signup bonus up to £100 and a similar sign up offer is available for Poker.
Additional features
In addition to the opening offers, Betfred provide a range of promotions including referral bonuses, 10% of all casino losses back on the 13th of every month, multiple bingo deals. There is a mobile options and live commentary and sporting news and views is offered on site.
Although it offers many issues available on the major betting sites, Betfred retains its independent status with ease and it has enough original issues to entice many.
User Reviews
ron
took price for a horse at 6/1 the horse won at 7/1 .then a rule 4 10p in the £..do they still do a rule four even if my price was bigger thn i took
read the small print! I decided to pay via paypal and got no bonus, what a con
Allen
Unable to load betfred on BlackBerry browser or Opera Mini or Bolt on other makes of fone. Ease of access via website on mobiles is a real patience tester! Surely someone at Baldfred should have noticed this.cos it`s impossible to get on the site.
wendy
can`t get on bet fred page comes up blanc
Pascal
i place a bet for 1 pound ew in the betfredshop for the The Grand National, get the first, second and the fourth place and the shop paid me £22.50 out. first 10/1 second 14/1 and fourth 10/1. i think this is very bad. regards
eoin power
this site is better then the rest
john kerfoot
I am a new member and I placed my first bets with you on Saturday 9th May 2009 totalling £20 do I get a free £20 bet for this can you let me know thank you,John Kerfoot
patricia murray
i am al ready using betfred, but cannot get on the page to do the irish lotto please help.as this the only page that iam experiencing difficulties with
bamitale
i will like to know how to bet using betfred cos am from africa [nigeria]
Mike
To trevor:
This offer is only available to an individual once, regardless if you sign up again to Bet Fred you can not collect this offer twice.
trevor waters
would like to cancel last account and start a new one
Pete
Now it`s £100 - I just went there. You might want to update this for your users here :)
John Y
Betfred have some good offers for new member - they are after all the `Bonus King`!!