Pinnacle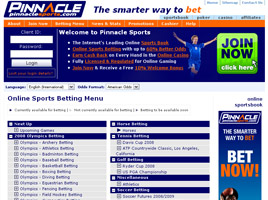 Get 10% (up to $500) free with Pinnacle
When you join Pinnacle Sports you will receive a 10% Welcome Cash Bonus on your 1st deposit worth up to the value of $500.
This offer only applies to new accounts, there is no minimum deposit required to qualify for this great bonus. The initial deposit and bonus must also stay within your account for a minimum of 30 days.
bonus format: [£x >> £0.1xF]

Other Offers

Sportsbook Betting Offers

View Offers
T&Cs Apply, 18+
£25

£50

£25

€22

£5

£20

£25

£30

£30

£5

£25

£100

€50

£25

£25

10%

£10

£100

£100

£25

£250

£25

£20

£25

£50

€25

£25

£88
Related Articles
Full Review
About Pinnacle
Providing their service to over 100 countries, Pinnacle Sports very quickly stands out from the rest of its peers. It doesn't look like other sites, it doesn't have the same Sportsbook focus as other sites and it brags about different areas on it's "about us" section than other sites. To some people this will mean they ignore Pinnacle Sports but if you are looking for something a bit different then this will be worth a closer look.
Ease of use
The layout is very sparse which is good if you do not like sites that have too much information and news. It is also very noticeable that Pinnacle Sports has the American sporting market in mind. The default odds are in American standard and most of the attention grabbing adverts relate to American sports like NFL or basketball. If you feel that too many sites offer regulation football (or soccer to the Americans) then Pinnacle Sports may offer a refreshing change.
Of course, the language and terminology used is American based and the site seems more difficult to get around. It may not be but because it is different, it is hard to get to grips with on the first couple of goes. Also, the layout of full betting options isnít as obvious as some other sites make it.
Markets
With the Poker options not open yet, Pinnacle Sports currently offer is Sportsbook and Casino sections. This is not quite as many options compared to most sites and again can be traced back to its international origins.
There was a less amount of sports available to bet on at the time of checking. There was a reasonable amount of sports listed on the site but a number of these had no available betting option attached to them. It may be easy to become disenchanted with the Pinnacle Sports website unless the options were increased on what they currently offer.
Opening offers
Pinnacle Sports do not need a minimum deposit to qualify for their opening offer and everyone is offered 10% of their opening deposit worth up to a $500 free bet. This is an enticing offer, and is a slight variation on the standard opening offer and does a little to further prove that Pinnacle Sports is the not the same as its competitors.
Additional features
Although betting options may be seen as quite small, there are a number of useful features provided by Pinnacle Sports. There is a betting calculator, there are schedules for upcoming sports, there are many previews for the forthcoming soccer campaigns and there are an abundance of stats. Pinnacle Sports certainly stands apart from most of the other sites, whether this is a good thing or not will wholly depend on your attitude to what they do offer.
User Reviews
Philip
Pinacle sports is the best, i confess, i`m pretty sure pinacle sports will beat all other sites in this bussiness the odds are nice thanks to pinacle sports and i will refer my friends to this sites thanks is my plessure.