Extrabet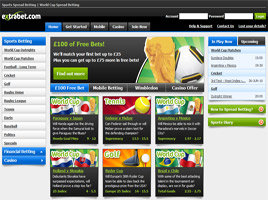 Details of £100 in free bets offer
To get new customers off to a good start, Extrabet has recently been offering up to £100 in free fixed-odds bets. It begins with a 100% bonus match of the very first fixed-odds bet of £10-£25. Then, on the customer's 5th bet placed, another 100% match of £10-£25 is given. And on the 15th bet made, a 100% bonus is awarded on any wager of £10-£50.
bonus format: [£25 >> £100F]

Other Offers

Sportsbook Betting Offers

View Offers
T&Cs Apply, 18+
£25

£50

£25

€22

£5

£20

£25

£30

£30

£5

£25

£100

€50

£25

£25

10%

£10

£100

£100

£25

£250

£25

£20

£25

£50

€25

£25

£88
Related Articles
Full Review
Extrabet - All Types of Betting on a Single Platform
Based in London, the betting exchange known as Extrabet is part of the IG Group of companies. It was established in 2006 to offer fixed-odds betting as a complement to a sister site that focused on spread betting. Now, Extrabet is the first an only online bookmaker to provide both types of wagering plus binary betting and an online casino all on one platform. From football and cricket betting to horse racing, tennis, or FIFA World Cup spread betting and even financial betting, it is all here at Extrabet.
Games to Play
Sports betting is the primary form of wagering conducted at Extrabet. The major market categories include Football (soccer), Cricket, Golf, Rugby Union, Rugby League, Tennis Motor Sports, and Darts. There is also a category for Politics, wagering on the results of future elections, and a section called "Specials", where novelty bets can be placed on the outcome of reality television shows like Big Brother or certain awards, such as the BBC Sports Personality of the Year.
Most sports books, both online and off, offer fixed-odds betting, and so does Extrabet. Traditionally, this type of wager means you win when you predict the outcome of an event correctly, and you lose if you are wrong. Bettors always know exactly how much they stand to win by multiplying the fixed odds times the amount of the stake as well as how much they can lose - the entire stake.
With sports spread betting, being right or wrong is less of a factor. The amount of money to be won or lost depends upon how right or wrong you are. For example, you can back a team to win by more or less than a certain number of points - the spread. You can also bet on a batsman at cricket to obtain more or less than certain number of runs. The amount you win or lose is determined by how close the result is to your wagered outcome.
Extrabet also allows Stop Losses to be placed on spread bets to limit losses. If you wager on a certain tennis player winning fewer than six sets in a tournament, your bet will be settled as soon as the sixth one is achieved, so you do not lose more if he/she go on to win seven, eight, or more.
In-running bets are also accepted at Extrabet. That means you can wager on the outcome of an event before it begins, then make additional wagers while the event is in action. This allows bettors to hedge original bets or press when things are going their way. This also means that literally hundreds of markets may be available on any individual event, such as a live World Cup football match.
And the betting is not limited to sporting events. Among real financial betting available at Extra bet are Market Indices, 5-Minute Markets, 20-Minute Markets, Hourlies, Commodities, Foreign Exchange (FX), Shares, and Exotics. The latter includes Daily Highs, Daily Lows, and Tunnels (ranges of trading) on the FTSE and Wall Street.
And not to be forgotten is Extrabet's Instant Play Casino. It features all of the most popular table games, from Blackjack, Roulette, Baccarat, and Craps to Casino War, Red Dog, Pai Gow Poker, and Casino Stud Poker. There are numerous 5-reel, 20-payline slots, such as Viva Venezia and Wild Mummy, with scatter bonuses and free spins when the right combinations are hit. Other games include Video Poker, Double Up, and HiLo.
Bonuses to Claim
During certain special events, such as England's matches during the FIFA World Cup, Extrabet offers 20% extra winnings on over 100 spread-betting markets, too. This makes in-running betting especially attractive.
In the Casino, first deposits up to £100 are matched with bonus cash. There is a Loyalty Rewards program, too, offering bonus points for every £10 wagered. Each batch of 1,000 points is equivalent to £1 of real cash, once a minimum of 10,000 points have been earned.
User Reviews