Paddy Power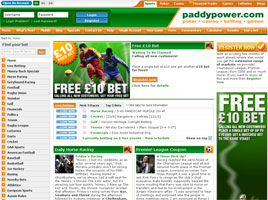 Get £50 with Paddy Power
To redeem this bonus you are required to register with Paddy Power. If you take a look at your bet slip you will find a free bonus there displayed. Note that Neteller or Moneybookers are not allowed while making use of this offer.
Only new customers can take advantage of this offer.
bonus format: [£50 >> £50F]

Browse Other Offers

Sportsbook Betting Offers

View Offers
T&Cs Apply, 18+
£25

£50

£25

€22

£5

£20

£25

£30

£30

£5

£25

£100

€50

£25

£25

10%

£10

£100

£100

£25

£250

£25

£20

£25

£50

€25

£25

£88
Related Articles
Full Review
About Paddy Power
They may be Irelandís largest bookmaker but itís fair to say that Paddy Power are known by people far wider than just the Irish. They operate online giving them a wider market but a lot of the awareness comes from the publicity stunts the site is known to undertake. Whether it is paying out early, offering a lot of cash back bets and just generally trying to put the fun back into gaming, Paddy Power stand apart from many of their peers.
Ease of use
The Paddy Power site follows the same layout as the majority of other sites but the text is a bit smaller. This is done to cram more into the pages and whilst this is good as it gives more options, it feels a little cramped at times. If you have trouble with small text, Paddy power may not be the best for you but the site on the whole is good. It is certainly easy to navigate.
On certain cards, Paddy Power do not pay out directly to your card, they instead send a cheque out to you for your withdrawals. This can be extremely annoying for many users and could put some people off of using Paddy Power as their online bookmaker.
Markets
Paddy Power offer a fair range of sporting bets and all the usual live betting and more detailed football bets are available. As is to be expected, there is a decent representation of Irish sports and keeping with the general theme of the site, there are many novelty events included in the Sportsbook. Whether its red card for footballers, reality TV shows or Paddy Powers own reality show featuring hatching eggs or just political parties, there is a wide range of choice to the Sportsbook options within Paddy Power.
Paddy Power Free Bets
There is the standard place up to £50 bet and have it matched offer for opening an account with Paddy Power. This is in line with the majority of online sites and further bonuses can be had by signing up to the Poker and Casino sections of the site.
The Poker section requires a download to run the software but after doing this, the member is rewarded with a $600 sign-up bonus.
Additional features
The full range of additional selections are available with Poker, Casino, Games, Bingo and Lotto fans all having plenty of options. There has also been the recent addition of the Financial Market for Paddy Power members to bet on, further increasing an already solid selection of events.
Paddy Power are currently offering a best price promise which means they guarantee the best earnings for punters, regardless if they choose an early price or a board price. If you make a lot of wagers or you place a lot of money in one go, this aspect can make a big difference to your potential winnings and is well worth checking out.
There are also extra elements to Paddy Power that definitely places them on their own. One such feature is the Weddings Sweepstake kit that is available to download. A Grand National Sweepstake kit is handy once a year but with the possibility of so many weddings, why not have some fun by having a competition to guess how long the speeches take. Whoever gets closest wins the kitty, whoever is furthest away has to do a forfeit? If you like to have fun with betting, Paddy Power is definitely the site for you.
User Reviews
paul mc connell
Pp the best of the rest nuff said
jim
Just need to know if I open an account with paddy power using my visa debit card does the money go into my account or is it posted out to my address. I just want to keep it private
maurice
what are the new rules re betting from Spaim