Sporting Index Review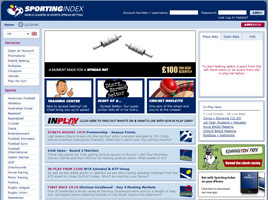 SportingIndex Bonus
Anyone who is new to Sporting Index is eligible for a New Account Offer of up to £100 in free cash. To qualify for the full amount, new members must place five bets, each of which with the potential to win/lose £20 or more. For example, a £15 stake on a football Total Goals bet or a football Supremacy bet would qualify. The £100 bonus is awarded immediately upon meeting the betting requirement and settlement of the five bets. The free cash must be claimed within one month from the date the new account was opened.
bonus format: [£100 >> £100F]

More Offers

Sportsbook Betting Offers

View Offers
T&Cs Apply, 18+
£25

£50

£25

€22

£5

£20

£25

£30

£30

£5

£25

£100

€50

£25

£25

10%

£10

£100

£100

£25

£250

£25

£20

£25

£50

€25

£25

£88
Related Articles
Full Review
Sporting Index - Specialising in Sports Spread Betting
Sporting Index was established in 1992 with just five staff members and 50 clients in the United Kingdom. In 2000, operations were expanded to include interactive sports spread betting on a web site. Today, the company serves more than 45,000 spread bettors worldwide and 80% of all bets placed online. Innovations over the years have included the introduction of "Bet on the Move", the UK's first java-based mobile betting application in 2003, and the start of spread-betting games in 2004. A dedicated web site for the Irish market was created in 2007, and the main site was completely updated two years later for faster display of live pricing and expansion of the educational content available online.
Games to Play
Spread betting is somewhat different from the straight odds offered by most sports books, and Sporting Index specialises in the former, making predictions on the likely outcomes of sporting or topical events. Prices are always presented as two numbers, one high and one low. The range between them is called "the spread".
Bettors then have the opportunity to decide whether the Sporting Index prediction has been set too high or too low. If you bet the low number, this is equivalent to a "sell" bet. Wagering on the high number is known as a "buy" bet. How much can be won or last depends partly on the stake that is made. But beyond simply winning or losing, the amount of each payout is based on the accuracy of the wager being made.
For example, Sporting Index might predict that the first goal in a match between Arsenal and Liverpool will be scored between the 35th and 37th minutes of play. A bettor who believes both defences will dominate might buy the high at 37 minutes, while another fan believing in an early goal will sell the low at 35 minutes. Supposing the first goal is scored in the 30th minute, the low bettor will win five times the initial stake (35 - 30 = 5), while the high bettor loses seven times his/her stake (37-30 = 7). So unlike fixed-odds wagering, the more right you are the more you can win, and the more wrong you are the more you stand to lose.
Wagers can be placed on just about every type of major event that is held, from Domestic, Euro, and International Football to Baseball, Crickets, Darts, Golf, Greyhounds, Horse Racing, Motor Sports, Rugby League, Rugby Union, and Tennis. There are also markets for Entertainment and Politics. And a service exclusive to Sporting Index is something called "Multiples", which allows wagering on a mythical match-up, such as two Premier League teams, each playing at their home grounds on the same day.
Bonuses to Claim
Sporting Index offers a "Refer and Earn" program, whereby members are rewarded for introducing their friends. As soon as a new account has bee opened and the friend wagers at least five times, the referring member can claim £50 in cash. Qualifying settled sports bets must have been placed on separate markets and with a minimum stake of £2. Introducers must also have placed a minimum of two bets in the previous 30 days.