Betfair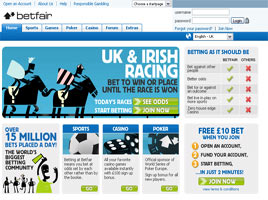 Betfair get your £25
Betfair are currently offering £25 free to new customers. The way it works is your first placement will be matched - upto £25 - with 3x free bets - upto £25 - available once you have placed an additional 10, 20 and 30 bets of £5 or more with Betfair. [Find Out More]
If you would like to take advantage of this offer please hit the button below;

Other Offers

Sportsbook Betting Offers

View Offers
T&Cs Apply, 18+
£25

£50

£25

€22

£5

£20

£25

£30

£30

£5

£25

£100

€50

£25

£25

10%

£10

£100

£100

£25

£250

£25

£20

£25

£50

€25

£25

£88
Related Articles
Full Review
Betfair
Betfair Group plc is the world's largest internet betting exchange founded by Andrew Black and Edward Wray back in 2000. The exchange aspect of the company was complimented with a fixed-odds bookmaking service back in 2012 as Betfair looked to compete with their more traditional rivals. As a result of its many endeavours, the Group has also established itself as the UK's largest online betting company with 1.1 million active customers using its services each week. These users will be dealt with by one of just under 2,000 staff across the world. The bookmaker moved a part of its operations to Gibraltar back in 2011.
Betting Markets
The sportsbook homepage of Betfair sees live odds of interest scroll across the screen in a tickertape formation beneath a corresponding photograph. Quite simply, more details about these bets, or more markets for that particular event can be accessed by clicking on the odds of choice.
Otherwise, the fixed-odds prices can be retrieved from the secondary black bar that sits beneath the main orange header atop of the sportsbook homepage. Whilst the 'main' sports (football, horse racing, tennis, darts, virtual sports) are listed on this band, by clicking on all sports a drop-down list of all 25 sports available to bet on will appear. You would be correct in thinking that this is a decidedly smaller offering than many of Betfair's competitors and markets such as politics and 'special bets' (television etc.) are stored within this category. Neither being confidently able to claim much sporting merit.
When clicking on a particular sport, you will, more often than not, be confronted with a list of boxed categories underneath the previously utilised black ribbon. These grey boxes contain words to which your search may well be concerned with. 'Barclays Premier League' or 'Euro 2016' perhaps, if your seeking out football bets, or 'The Davis Cup' or 'The Fed Cup' should your focus be on tennis. Beneath these boxes, an ideal way of not over-facing a punter, are a list of in-play events and some popular up-coming ties.
After finding a sought after event, access to other related bets can be achieved through clicking 'All Markets' next to the tie. Again, organisation and visual crispness, as opposed to a wide variety of markets, being the one key strength of Betfair's service.
Selecting 'All Markets' will see the layout of the website turn from a horizontal format to a much more vertical lay-out. The left-hand of the two columns is concerned with other fixtures in your chosen competition, whilst the right-hand side deals with the most-backed bets of your particular tie. Should these popular offerings not be wanted, by clicking the prominently placed grey drop-down box, a new list of related bets that may be more preferable is obtained, should it be team markets, or player markets for football bets or set markets or games markets for tennis for example.
Not only are the pages well organised, the orange header and the blasts of bold colours (the blue of the odds and the green of a live score) lift the pages to be more welcoming than its grey counterparts. The 'On TV' symbol is also useful for those who would only rather bet on an event that they can witness the outcome of. Again though, this is at the expense of a large amount of fixed-odds prices. At the time of searching, Betfair had half the number of markets displayed on a featured international football match than many of their online rivals.
Customer Service
Promotions and features such as 'Cash Out' and 'Price Rush' can be easily accessed through the black band on the sportsbook homepage making the website almost completely idiot-proof.
By selecting the 'Promotions' icon, the user is greeted by twelve panels in a vertical formation, all of which relate to different offers currently valid. Whilst many of these concern Betfair's casino and arcade, around half should be aimed at sportsbook customers.
The look of these individual promotion pages are fantastic. Set against a photograph that fills the whole window, the chosen promotion sits in a vertical box set to the left of the screen. Please be aware that one should scroll down in order to access the link to terms and conditions. There locations are not always being obvious.
Promotions available at the time of asking include the 'Choose Your Trigger' offer that sees punters earn themselves a refund as a free bet of up to £25 on bets placed in particular markets, should a chosen 'trigger' event occur and a 'both team to score' accumulator insurance for football fans who are let down by a single leg. Betfair are famed for their twin flagship offers of 'Price Rush' and 'Cash Out' features, again obtainable from the secondary black band beneath the header. The Price Rush promotion sees the user have their odds inflated on certain single bets should the price be offered higher on the Betfair Exchange. Customers are informed of such a instance when viewing their (potential) winnings in their 'My Bets' section of their sportsbook account. The words 'Price Rush' are emboldened with the original odds crossed out, replaced by their new inflated odds. Available in football, horse racing, tennis, golf and basketball markets, a Price Rush will not be awarded on free bets, on each-way bets or on multiples.
With an emphasis on horse racing and football, the Price Rush homepage simply highlights which horses in which races, or which markets in which ties have received a Price Rush. As the lack of instruction may leave some confused, a link entitled 'Find out how Price Rush works' is clearly presented.
The Cash Out page is much more word heavy, with a small, grey font on a similarly coloured background hardly helpful. Quite simply, the Cash Out feature allows punters to withdraw their winnings between the legs on their accumulator, or as a single match or race is underway. A video is useful in communicating any complexities users might suffer and Betfair must be applauded for making it clear to punters that their markets may suspend as they continue to recalculate the odds, with users approaching the tool more cautiously than they might otherwise. Beneath this introduction and video is a list of games that are clearly signified as being available for betting on with the Cash Out feature.
Bonus Offers
Betfair are currently offering new customers the chance to get their first bet up to the value of £50 matched with a free bet by opening an account with the code 'ZSK204'. A bet worth a minimum of £10 has to be placed for this to stand.
Current users can pick up a free bet of up to £25 for simply referring a friend. For this bet to be obtained the person to whom the site has been recommended must place a bet to the value of £75. They will also get their bet matched up to the value of £50.
Find out more about possible free bets by selecting the promotion icon as seen in the black bar and scrolled down until you find the 'Free Bet FAQ Your Questions Answered' panel.
In Summary
The Betfair sportsbook is the choice for any punter looking to bet simply on a well-presented interface and grab themselves some corking promotions. Should you be looking for a wide range of betting markets, maybe a different bookmaker would be better recommended though by making an account you also welcome the possibility of using Betfair's trademark exchange.
User Reviews
Ramesh shah from india bombay
can I be a member to bet.if yes than Gide me how became a member. thx
daniel clarke
I want to join
jodie
i have placed bet and used code when signin up and havent got my free bet ? any idea as to why?
hasan
can i play from Bangladesh on betfair
Jose De Aguiar
I have just opened a new account with £10 do you not offer any promotions where you match the amount is deposited. Just asking as most of the other online bookmakers offer this promotion.
ashish sharma
how i open a/c in betfair
chris andrews
what is the minimum deposit to open an account.
Scott Dow
I signed up last night, deposited and staked £25, do i get this back as part of the `bet 25` offer?
Zefanya
Unfortunately we have no control over the corenuits allowed access to Betfair Mobile apps. This is a decision Betfair have taken, and hopefully as their Mobile customer base increases they will increase the number of allowed corenuits.
david cameron
How do i start
john quinn
how do I open an account.
David Neville
I would like to open an account today. Thank you, Davie.
Mike Smith
I believe betfair, like high-street bookies do all they can to discourage consistant winners. Trading on betfair is no longer viable, as they charge 60$ commission for those who make a profit?
John e fleck
How do I place a bet?
Andy fulbrook
Want to open an account
ian robertson
want to open an account
nachhattar singh
i am your member on phone line nn9611 like betting on mobile internet
denise floyd
like to open a account
Gerard Doyle
I want to get involved in laying horses on betfair what would be the best advice?.
david hoare
its good except i couldnt find a price for tony adams to be sacked.thank you mr dave hoare