Full Tilt Poker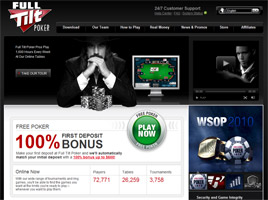 $600 initial deposit bonus
For many players, the opportunity to play with professionals and learn from the best in the business would be reason enough to join Full Tilt Poker. But this professionally serious site knows it is "all about the money" in the long run, so new players are greeted with a 100% first deposit bonus. That means Full Tilt Poker will automatically match any initial deposit up to $600.

Other Offers

Poker Bonus Offers
T&Cs Apply, 18+
$400

$500

€200

£470

$600

$600

$200

$600

€1000

£230

£100

£450

$600

£150

$500

$500

$500
Related Articles
Full Review
Full Tilt Poker - Professionally Serious about Poker
Any web site that can name WSOP Champions Phil Ivey, Chris Ferguson, Howard Lederer, John Juanda, and Jennifer Harman on its "team" has got to be professionally serious when it comes to online poker, and that's an apt description of Full Tilt Poker. The venue claims to be the only online poker room "conceived, designed and played by professional poker players". In fact, according to the organizers, acknowledged pros put in 1,600 hours at the Full Tilt tables every week. But the pros are not the only ones spending time here. At any given moment, some 70,000 players are online at more than 25,000 tables and taking part in over 3,000 tournaments. This is professionally serious poker, to be sure.
Games to Play
All of the top games played on professional poker tours and at televised tournaments are available at Full Tilt Poker. That includes such main event games as Texas Hold'em, Omaha Hi, and Omaha Hi/Lo. Also offered are Stud Hi, Stud Hi/Lo, and Razz. These poker variations allow mixed games to be conducted, like HORSE, HOSE, and HA, with games changing every ten hands and requiring plenty of skill and experience.
But Full Tilt Poker is not exclusively for veterans of the game. In the web site's Full Tilt Academy section, there are more than 200 educational video tutorials, interactive learning challenges, poker lessons, and articles on strategy. Topics covered range from poker math, betting and position to tells, bluffing, and much more. Sit-N-Learns are offered for beginners, and pros explain their actions in real-time during play.
In short, Full Tilt Poker is for players of all levels who are serious about the game, from students to cash game hustlers and the highest level of tournament experts. There are limit games, pot limit games, and no limit games. Ante games yield bigger pots and more action. Cap games limit betting and risk. There are Rush Games and Speed Tables for faster play, and Deep Stack and Shallow Tables that extend the maximum and minimum buy-in levels.
Tournament play is the true heart of Full Tilt Poker - Multi-table, Single-Table, Sit-N-Go, Double Stack, Rush Poker, and Steps being just a sampling of what's available. In the latter, low-cost buy-ins allow players to win their way to the top through a series of "next step" entry prizes. There are Four-Player Heads-Up Shoot-Outs, too, where player vie one-on-one for the prize pool.
Other tournaments at Full Tilt Poker include Cashout, Knockout Bounty, and Matrix. Private tournaments can be arranged, and satellite events are frequent. There are synchronized five-minute breaks at 55 minutes past the hour during tournament play. Late registration is often available, too, as posted in the Full Tilt Lobby.
Bonuses to Claim
The bonus cash can be claimed by earning Full Tilt Points. For every hand played, 1-3 pints are awarded, depending on the rake value. For ever dollar spent as a tournament or Sit-N-Go buy-in, seven points are earned. For every 334 points accumulated, $20 of the bonus is released. This continues until 100% of the bonus money has been received or 120 days pass, whichever comes first.
Points can also be redeemed in the Full Tilt Poker Store for merchandise or to enter valuable Freeroll tournaments. During Happy Hour, double or triple points are awarded in selected ring games and tournaments.
More than a dozen other promotions are available at any time, from guaranteed jackpots to six-figure events and opportunities to play with WSOP bracelet winners. Referrals of friends are also rewarded with £20-£115 in cash bonuses, based upon the new enrollee's volume of play.
User Reviews