PokerStars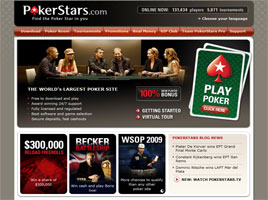 100% Player Bonus
The first time real money deposit you make to PokerStars will be matched (up to $600). Use the bonus code 'Stars50' to be rewarded this bonus on your account. PokerStars also offer regular redeposit bonuses for current players, these promotions are normally announced to the player by email.
bonus format: [$600 >> $600F]

Browse Other Offers

Poker Bonus Offers
T&Cs Apply, 18+
$400

$500

€200

£470

$600

$600

$200

$600

€1000

£230

£100

£450

$600

£150

$500

$500

$500
Related Articles
Full Review
Introduction
Now, there are a lot of gaming sites out there that try to tempt players to their rooms through several different gaming options. More often than not, these sites tend to emphasize one aspect of their business over the others, so you get a sub par experience on all ends. Not so with PokerStars, where poker is the only gaming action you will see. Letís take a look at how this site met our review standards.
History
PokerStars is one of the oldest poker rooms on the Internet, having opened in 2001. Since that time, the site has risen to be the largest site on the entire web, largely due to its refusal to throw American players out after a legislative process in that country had many sharps out in the cold.
PokerStars is also unique amongst online poker rooms in that it can boast three WSOP champions who play regularly on the site, two of them home grown. Chris Moneymaker (2003) and Greg Raymer (2004) both use the site often, as does Joe Hachem (20005). Moneymaker and Raymer both received their WSOP seat through PokerStars satellite tournaments.
With 220,000 players at the tables during peak hours and a reputation for turning out big winners to boot, PokerStars has the kind of reputation that adds up to a secure site.
Set up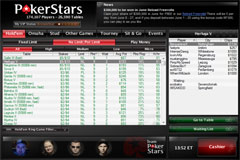 Youíll find the online landing page perfectly sums up the PokerStars experience, touting its oft acclaimed tournaments as the best in the business, opinion backed up by some big poker names including Daniel Negreanu among others.
Tabs guide you to different sections, including the download, the room itself, tournaments, VIP clubs, promotions, and customer support.
You do have to download the software in order to play, so donít think PokerStars if you want to play from your corner desk at the office. Too easy for those tech guys to tattle on you to the bosses!
The downloading process is straightforward and fast; select, register, fill out some information, and you are off to the tables.
Play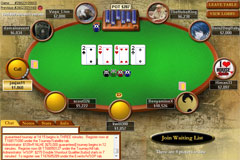 Like any good poker site, PokerStars offers both play and real money options for those interested in playing a few hands. Unfortunately, like most sites, it canít keep the idiots out of either room. The best way to avoid the raising, no skill but some luck maniacs you will inevitably run into on the real money rooms is to play for higher stakes. In the play money rooms, it can be a real free for all. Encountering those jokers means that play money totals are not always an accurate measure of your skill at the game, so use caution before continuing on to the real money tables!
The game play is very smooth on the site, which is quick to fold hands for players who are slower to play their hands. This is a nice feature for those of us who hate fossilizing as we wait for Crazy Eights or some other player to return from the fridge with some soda in hand.
Customer Support
There are two options for those seeking help on the PokerStars website. The first are the Frequently Asked Questions, located in the aptly named section under the Support tab. We found the FAQs did an admirable job and covered all the bases as far as beginner questions and more besides.
Failing to find help with the FAQ section, you can always try the 24/7 email service. Answers are typically returned quickly and expertly.
Promotions
PokerStars brags big bonuses, but in truth they are a slightly little thin on the ground. There is a $50 Welcome Bonus, with reloads offered from time to time. The biggest draw for PokerStars are really the high level tournaments the site has to offer its regular players.
PokerStars is the biggest name in the online poker game, and the straightforward format is one that canít be argued with. Itís a fun room to play in with competition ready at all hours, a chance to make it big in the world of poker, and plenty of help for the new player available.
User Reviews