PKR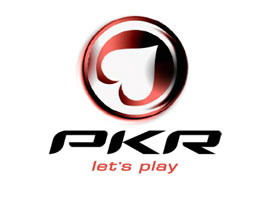 First Deposit Bonus Information
The novelty of playing in a 3D virtual poker room might be reward enough for many players, but most online enthusiasts prefer to see money. In that regard, PKR offers a very generous Welcome Bonus - a 100% match of the first deposit of $10 to $800. Referrals earn a $50 bonus, while Club PKR gives loyal players free gifts, big money free rolls, VIP access to games, and more.

Other Offers

Poker Bonus Offers
T&Cs Apply, 18+
$400

$500

€200

£470

$600

$600

$200

$600

€1000

£230

£100

£450

$600

£150

$500

$500

$500
Related Articles
Full Review
PKR - Advanced 3D Graphics Put you in the Game
PKR is a state-of-the-art, downloadable poker room in English that supports six other European languages. It is powered by proprietary software licensed in Alderney by London-based PKR Ltd. What makes this poker site especially appealing to younger players (18-30 years old) is its implementation of advanced 3D graphics, including exotic environments in which to play cards, customized male and female avatars, and camera angles that can be controlled by the player. The poker site is also linked to PKR Casino and PKR Sports Betting through a pull-down menu called the "Game Zone".
Games to Play
This is NOT your typical online poker room. It is more like a role-playing game (RPG), but with the real risk of cash-play gambling involved. As such, it provides the same adrenalin rush one feels in an actual land-based poker room, plus the added enjoyment of interactive virtual realities that will be familiar to video gamers.
To begin, each player must first create a character (avatar or persona) to represent herself or himself online. This starts with choosing a basic look, including sex, skin tone, body shape, hair color and length, lips, eyes, nose, and ears. Clothing can be selected from a massive wardrobe to reflect a certain style, from roughneck to regal and anywhere in between. Accessories such as watches and jewelry (or bling) can be added, too.
Once the alter-ego is ready to play, a location is needed and PKR offers eleven different settings to choose from. These include Chinatown, Cruise Ship, Egypt, Atlantis, Club Metro, and Monte Carlo. Others are Paradise Island, Studio PKR, Vegas, and Vintage Bar. There is even a Home Game for those who prefer playing in a living room or den.
Once seated at the table in the preferred environment, the player can choose any of five ways to view the game. In Dynamic mode, the scene shifts automatically like a film director picking the best camera angles. In First Person, the view is always from the perspective of the in-game character, controlled by clicks of the mouse. And in Orbit, Overview, and Points of the Compass modes, it is possible to fix the view in a single position and zoom in or out.
Clearly, there is a lot more to playing poker at PKR than 52 cards. It is even possible to express facial emotions, make eye contact with other players, and use body language as to bluff or read tells. Animated gestures are available, too. Those who master this level of the game may even want to try playing on PKR TV, which is broadcast to real home audiences all over Europe.
The basic games offered at PKR are Hold'em, Omaha, and Omaha Hi-Lo Split. There are Multi-Table Tournaments, Ring Games, and Sit & Go's. Play money games and free rolls give newcomers opportunities to practice risk-free, while more than ten types of tournament formats provide real-money players with all the live action they can handle. Deep stack, regular, speed, and turbo formats are available, as are satellite games that lead to entry in major events.
With all of the bells and whistles that PKR has going on, it is easy to miss out on the "related links" to Caribbean Stud, Mini Roulette, Mini Blackjack, and Min Casino Hold'em. The Lobby and "Game Zone" links also give access to a 3D video game version of the "Deal or No Deal" television game show. Here, players can wager from 50¢ to $100, opening cases and trying to beat the Banker's offer.
Bonuses to Claim
Upon joining, new members in the free PKR Club receive 1,500 PKR Points. Additional points are earned through poker play and participation in special promotions. PKR Club members then move steadily up the ranks from basic membership to special reward levels; Bronze, Silver, Gold, Platinum, and Diamond. The higher the level, the more benefits accrue.
The points can be redeemed not only for cash, but also for virtual accessories to apply to characters or for real merchandise in the PKR shop. The goods available range from electronics, apparel, bags, and computer items to seats at live poker tour events and even real poker tables and personalized chip sets.
User Reviews