Cheeky Bingo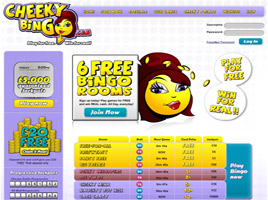 Bonus offer details
Cheeky Bingo likes to get new players off to a fast start, so they offer £20 in bonus cash for any initial deposit of £10 or more. That's a 200% gain upon joining, and it is followed up with a 50% cash match on subsequent deposits - not just the second or third deposit, but on ALL deposits, all the time. With all these cash giveaways, the web site can hardly be blamed for setting the minimum withdrawal limit at £30.

Other Offers

Bingo Bonus Offers
T&Cs Apply, 18+
£25

£25

£10

£20

£25

£20

£45

£15

£10

£10

£100

£50

£20

£30

£20

£150

£100

£40

£25

£50

£100
Related Articles
Full Review
Cheeky Bingo - Win Real Cash by Playing Free Bingo
Cheeky Bingo is one of 17 Internet gaming sites owned by Cashcade Limited, a bingo company that held about a 23% share of the total UK online bingo market as of mid-2009. What sets this particular venue apart is how Cheeky Bingo gives money away, with liberal deposit bonuses and six free bingo rooms. The rooms are open all day, every day, each of them paying hard cash to real winners. Licensed out of Gibraltar, Cheeky Bingo's games are powered by Cashcade software, which specializes in 75- and 90-ball bingo, low-cost 5p and 10p rooms, and substantial progressive jackpots as well as a weekly £5,000 game.
Games to Play
Cheeky Bingo's huge selection of free 75-ball and 90-ball games are played is half dozen dedicated bingo rooms, including Free-For-All, Free'N'Easy, Fancy Free, Big Freebie, and more. Guaranteed cash jackpots are offered to the winners, so players who you don't even wager a penny can still come away ahead by joining and playing at Cheeky Bingo.
Apart from the free games, there are loads of cheap tickets, too, such as 1p and 2p Guaranteed Jackpot Games played in the Penny Whoppers and Big Twos rooms. Every game features a guaranteed win of £50. And for those wiling to risk a bit more, there are plenty of 5p and 10p games with much bigger prizes available, such as the Cheeky Minx and Naughty But Nice rooms offering £17 and £23, respectively.
Those who play the Progressive Jackpots vie for the opportunity to claim as much as £50 or more each day, while the Cash Crazy room has a £5,000 top prize daily. There is also a Weekly Guaranteed Jackpot worth a whopping £5,000 offered every Friday; the game starts at 8pm sharp.
Apart from traditional 75- and 90-ball bingo games and coveralls, Cheeky Bingo offers loads of pattern games, too. The object is to mark off spots that form a numeric or alphabet shape on the card. These games take only 2-4 minutes to play, depending on the number of participants and the type of game called. Popular variations include Letter Y, Letter H, Letter U, and Number 8.
On any given day, Cheeky Bingo hands out nearly £200,000 in prize money. Most of the "big" bingo wins are on the order of £50 to £100, but with the volume of games being played, the awards add up quickly. And the biggest winners in a typical day claim from £3,000 to £6,000.
There are more ways to win at Cheeky Bingo with side games, too, including Slots, Super Slots, Table Games and Instant Wins. The most recent "Top Ten" big winners chalked up between £250 and £562 in a single day - not bad at all for a little "something on the side". Among the most popular Instant Win games are Hollywood Stars, White Wizard, Noughts and Crosses, Shaman's Dream, Paradise Reels, Fluffy Favourites, and Love Lines, to name a few.
Bonuses to Claim
Flush with free cash, players can take full advantage of the many special promotions available on Cheeky Bingo. These range from seasonal offers like Footy Festival during the FIFA 2010 World Cup to ongoing events, such as Cheeky Dip on Thursdays and Party Night Saturday.
Everyone who enrolls at Cheeky Bingo is automatically eligible for Cheeky Points (CPs). These are awarded for purchasing bingo cards, winning chat games in the 5p and 10p rooms, introducing friends for membership. CPs can be cashed in for cards in the 1p-10p rooms and for special Pre-buy games.
Earning 1,000 CPs is equivalent to adding £1 to a player's account. The points allotted are determined by the price of the cards purchased, although many CPs are given away for free, such as 5,000 points per new referral and up to 500,000 points for winning the weekly Cheeky Chest game.
User Reviews
andrea
i thought it was free to play between 6pm and 9pm...i cant see no frreee play as advertised on tv adverts. :<
Shirley Mckenzie
It is not at all surprising they named it cheeky bingo, just a pity they didn`t call it daylight robbery, I am sure the cartoon woman on their site should be wearing a balaclava and must be armed to the teeth with AK47 as this site is an absolute farce. I buy tics and get charged then it refuses me as I don`t have any tics, but am never refunded, I get booted out constantly, spent and absolute
sandra dale
do I tealy not have to place any money to play the game at 9pm please advise this is what you advertised on te t.v thankyou
amy
i put 20quid on and nw it wont let me logon into play????
alanmo44
i have put £10 on cheeky bingo played a few games and it went off and will not come back on