Mecca Bingo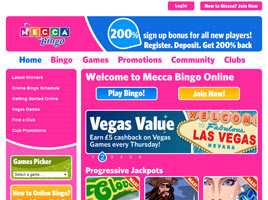 Up To £50 Free
New users to Meccabingo.com are eligible for a windfall of £60 of playable cash. The new customer should register with the site, load their new account with £10 and spend this initial deposit to be in receipt of Mecca's treat. Of this £60, £50 will be available to use in any of their online bingo rooms, whilst the other £10 can be used in player's local Mecca bingo hall.
All terms and conditions relevant to this offer are available to read by selecting the 'Promotions' tab at the top of the homepage, and selecting the 'Welcome Bonus' option. This will then take the customer to the relevant offer page with the terms accessible by opening up the signalled drop-down menu.
bonus format: [£10 >> £20F] OR [£25 >> 50F]

Browse Other Offers

Bingo Bonus Offers
T&Cs Apply, 18+
£25

£25

£10

£20

£25

£20

£45

£15

£10

£10

£100

£50

£20

£30

£20

£150

£100

£40

£25

£50

£100
Related Articles
Full Review
Introduction
Mecca Bingo is part of the Rank Group plc., a Europe-wide gambling and leisure firm. They operate over 160 retail outfits throughout the UK, Spain and Belgium with just over two thirds of these being part of the Mecca franchise. It is the largest casino operator in Great Britain.
The Group is also responsible for Grosvenor Casinos and the Spanish gaming website Top Rank Espana. They acquired Blue Square, best known for their sponsorship of the Football Conference, back in 2003 though this was sold to Betfair 10 years later. The brand no longer exists.
As of 2010, Mecca boasted having over 4,000 employees serving just under a million customers. Its first bingo club was established in 1961 and now encompasses an extensive online presence with meccabingo.com complemented by meccagames.com.
Bingo!
The Mecca Bingo homepage, accessible by selecting the 'Bingo' tab when on the general homepage, is a lively hub of bingo-related activity. Initially, users are greeted with a table of forth-coming events displayed alongside information concerning the finer details of each game. The table lists each events name, game type (80-ball, 90-ball, card bingo etc.) and price per ticket; the prize is also clearly stated as well as the next available game. Should users be okay and au fait with these guidelines, they are then encouraged to select the 'Play Me' button.
Further down the main body of the bingo homepage are advertisements for a number of themed bingo games. At the time of writing Mecca can boast having a Deal Or No Deal-related game and a Britain's Got Talent bingo promotion. There's also the X Factor bingo room. Not only are these games themed to suit their target audience, they are also non-traditional bingo formats, putting a twist on the much-loved past-time. This stops the Mecca bingo experience from becoming too stale with extra elements to think about other than the revealing of balls. It also adds a little spice to the atmosphere of the room.
A personal touch on the homepage is the brand's presentation of the profiles of their chat moderators (CM), those people who make sure all is going smoothly in the bingo rooms. Each CM's profile has a photograph and a short summary of who they are and what they most enjoy doing. Such an idea also removes the facelessness of online gambling.
The secondary toolbar at the top of all pages can lead curious viewers not only to the bingo rooms but also to a page where they can read about past winners and thorough descriptions of the site's feature games. This is also where users can learn about 'Mecca Treats' - a five stage membership scheme where points make prizes. The terms and conditions of the 'Mecca Treats' programme can be found in the drop-down menu on the promotion's relevant webpage.
Customer Service
There's a mountain of products and services for regular users of Mecca Bingo online to get their teeth into. Whilst some of these deals are redeemable every day, there's also a special offer available for each day of the week. All of Mecca's long-standing commitments have been stated below though it is worth keeping one eye on the 'Promotions' homepage for special TV- and topically themed deals and offers.
The first of the daily delights is the 'Magic Mondays' promotion that allows customers to receive a subsequent two free bingo tickets for the 'Turbo 90' room between the hours of 7PM and 9PM upon purchasing three for the same event. Tickets for this room cost 12p each.
Tuesday's deal sees users rewarded with buy one get one free tickets for the 'Key in the Door' room from 6PM until 9PM. The 'Twosday Tuesday' offer is available on both desktops and on mobile devices.
Every Wednesday of each month is dedicated to making as many winners as possible in the 'Dancing Queen' bingo room. Between the hours of 7AM and 2AM Mecca will endeavour to give away cash to as many players using the 'Last Chance Saloon' and 'X to Go' games. It's all about thrills on Thursday as players take to the 'Lucky For Some' room to get involved in bingo for a matter of pennies, some are even free to use! This promotion runs for the duration of the day.
Meanwhile, for two hours (from 8PM to 10PM) on a Friday, Mecca will be rolling out their 'Roll On' bingo service to their 'Leg Eleven' room meaning that customers will get even more chance to win cash with ten extra full houses in each eligible game. The 'Legs Eleven' room is also the place to be on a Saturday for the 'Friendsy Saturday' promotion. Between the hours of 7PM and 11PM users can use the 'Friendsy' feature to chinwag with pals and try to claim a slice of the jackpot. All members of a 'Friendsy' group earn a share of the win every time the user who organised the get-together grabs a full house. More information on 'Friendsy' can be sourced by finding the 'Friendsy Saturday' offer page in the 'Promotions' tab.
Also running on FRIDAYS is the '10p, 1K Bingo' deal. By entering one of the five specified rooms between 9PM and 10PM on a Friday, players get the opportunity to try to nab a £600 jackpot for a mere 10p a ticket. There are two games every week with secondary prizes including £100 for a line and £300 for two.
Indeed, the 'Bingo Linx' promotion page outlines where and when bingo-ers can win up to £10,000 from a 50p game.
Should the customer be new to Mecca online, they will do well to seek out the new-members-only room. The room is free and open from 6PM to 8PM with a jackpot of £20 whisking itself to the winner of every game. There is also a consolation prize for those who were so near yet so far thanks to the 'One to Go Prize Pot', with chat moderators a click away at all times to help all new punters through their first experiences. The 'Newbie Room' is open for seven days following the activation of the user's account with further terms and conditions available on the relevant 'Free Bingo Room for Newbies' page.
All general terms and conditions can be found at the bottom of each page beneath the 'We're always here' title. All promotions are valid for users surfing the web on a laptop, tablet or mobile device.
Bonus Offers
Regulars to Mecca Bingo clubs who are yet to make the leap online can be find themselves in receipt of a £5 playable bonus by simply typing in their club membership number upon registering. What's more, these players will also be able to enjoy the £60 new customer bonus! Again, terms and conditions can be revealed by pressing the 'Show out terms and conditions' drop-down menu present on the 'Up to £55 Free to club customers only' webpage. This page is accessible via the 'Promotions' tab.
By spreading the word about Mecca Bingo, referees could see themselves rich to the tune of £200 each month. There is £20 to be had every time an invited chum deposits £10 with the maximum number of invites capped at ten a month. There's no better time to get friends and family into the Mecca Bingo way of life, with £200 up for grabs each month!
A link to the general terms and conditions is displayed beneath the 'We're always here' title at the bottom of each page.
In Summary
As one would expect from such a trusted brand, Mecca Bingo offers plenty of variety in its myriad services. Whether it's the quality of the televisual tie-ins or the number of long-standing deals and promotions, Mecca are always looking to engage and excite their audience.
The prominent displaying of the chat moderators' profiles is also a rather warm touch that many of their leading competitors have overlooked.
User Reviews