Foxy Bingo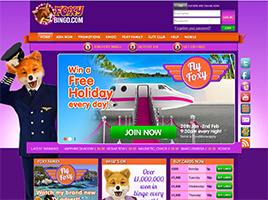 Collect £30 Free With Foxy Bingo
Foxy Bingo are currently offering £30 free when you deposit £10 (200% deposit bonus). The maximum bonus you can receive is £100 (by depositing £50). This is only offered on your first deposit.
bonus format: [£10 >> £30F]

Browse Other Offers

Bingo Bonus Offers
T&Cs Apply, 18+
£25

£25

£10

£20

£25

£20

£45

£15

£10

£10

£100

£50

£20

£30

£20

£150

£100

£40

£25

£50

£100
Related Articles
Full Review
Introduction
FoxyBingo.com is a brand owned by UK-based online gambling media company Cashcade Ltd. Cashcade are also the guys behind Getminted.com, whilst also providing online gambling services to the Trinity Mirror Group (Mirror Bingo, Mirror Casino) and the Daily Mail (Mail Bingo). Foxy Bingo was launched in 2005, and in just eight years has become one of the biggest online bingo sites in the United Kingdom. The website offers 40 rooms of bingo, in both the 75- and 90-ball varieties, and gives away millions of pounds in prize money each week. Foxy Bingo claims to present £40,000,000 a month. According to its About Us page on its official website, Foxy Bingo can also boast thousands of new visitors each month.
Foxy is the name of the anthropomorphic fox at the centre of the brand's many advertising campaigns. He has been a regular face on British television since 2007, though has undergone something of a transformation since his first appearance. He is now famed for his trademark purple suit and cane. Much of the text on Foxybingo.com is written in first-person, from the point of view of Foxy.
Bingo!
Foxy Bingo's bingo homepage is very basic, simply being a list of the seven different kinds of bingo that the website provides. The available options for customers to choose from are 90-ball and 75-ball bingo varieties; a tournament mode; a pre-buy jackpot, with customers able to register for a ticket without being present for the duration of the game; chat games; progressive jackpots that increase after every game and '1TG or 2TG' modes. Standing for '1 To Go' and '2 To Go', these games reward those who may be just one or two balls away from scooping the jackpot prize.
By clicking on one of these links, the visitor will then be taken to a rather convoluted set of instructions concerning how to play their preferred game. Whilst offering information is always helpful to new players, the length of the passage and size of the text will not make it enjoyable reading. Diagrams are, however, utilised in an effort to break up this text.
From these instructional pages, registered users can press the 'Play Now' icon to select a room and begin playing their chosen game.
Customer Service
There are various promotions and deals available at Foxy Bingo including weekly specials and a points system that can see regular users of the bingo site earn themselves a place in one of the exclusive bingo rooms. More information concerning these offers, including their terms and conditions, can be found by selecting 'Promotions' on the toolbar and searching for the relevant deal.
The 'weekly specials' on Foxy Bingo are the speed bingo games; the happy hours and the night owls special. The speed games allow customers to play in the Love Me Tender room from 8AM to 9AM and 12:30PM to 1PM in 'super quick' time. This means that registered players needn't miss out on the fun before work or during their lunch times. Cards are available from 10p.
Happy hours run from 3PM to 4PM and 10PM to 11PM every Monday, Tuesday, Thursday and Sunday. Between these hours on the specified days, bingo can be played for a penny in the Gimme 5 and Bingo Dreams events. Indeed, nocturnal players can also play for a penny every Wednesday and Friday between 2AM and 3AM and 5AM and 6AM in the Gimme 5 and Love Me Tender games. This is thanks to Foxy's night owl specials.
Guaranteed jackpot games also run every ten minutes with two rooms (one a 7-ball game, the other a 90-ball game) dedicated to giving away these guaranteed prices.
Should the customer not be able to be at a computer but still feel as though the night might be their lucky night, it is also possible to pre-buy tickets for particular jackpot games. Eligible games run from 9PM with a card price of between 5p and 50p depending on the day on which they chose to play. Jackpots run from £500 to £5,000. More information can be found on this service by selecting 'Promotions' from the toolbar and searching for 'Pre-Buy Jackpots'.
Loyalty bingo points can be picked up every time the user plays in regular jackpot bingo games. These points can either be exchanged for bingo cards or saved to allow admittance into one of a number of exclusive chat room games. One point is earned for every 10p spent on bingo cards.
Bingo points can also be earned when users sign up to the membership scheme with players earning more offers and deals the more they play. All who sign up to the membership scheme begin as 'Club Members' before working their way through many stages in the aim of becoming 'Elite Club Members'. The more a user spends on games, the sooner they will rise through the ranks. All members are treated to perks such as daily jackpot games, a Foxy bingo-related magazine and access to Foxy TV. Bronze, Silver, Gold and Elite Club Members are also all treated to a percentage of cash back.
The site also regularly attempts to raise money for charities in the shape of special games where a portion of the winnings go to good causes. This fundraising service can be found in the 'Foxy Family' link in the header at the top of each page. Here, customers can also search such things as the Foxy Bingo book club, the website's blog and access information on their official partners, including the Mum Of The Year Awards, the Dreamgirls charity and the Rugby Super League.
Bonus Offers
Foxy Bingo currently offers new customers a choice of two deals to take advantage of. The first is a free £5 to play with when signing up to Foxy Bingo without depositing cash. The try before you buy element here is positive for those new to the bingo scene and are not completely sure as to whether or not this is something they would like to do regularly. The second sees new users receive £30 extra to play with upon loading their account with £10.
The terms and conditions of these offers can be found at the bottom of each page.
In Summary
Whilst Foxy Bingo's bingo homepage may be without the bells and whistles expected of a modern gambling website; the customisable tabs, the themed games and the lack of concise instructions, those interested in being rewarded for their loyalty will find Foxy well-suited to what they are looking for.
The choice of offers for new customers is welcomed, as is the membership scheme that ensures customers get value for the money they deposit. There are also a number of other promotions available to those who may well not be members of this scheme, the number and variety of such being applauded, as well as the frequent charity games.
Always be aware that the terms and conditions run at the bottom of each page, there being one set of terms for everything rather than separate page of 'terms' for each game or promotion. Like the aforementioned instructions, these conditions are so laborious to read and would be better redesigned so customers don't have to seek out their necessary terms from a lengthy 12,000 word piece of text.
User Reviews