Gone Bingo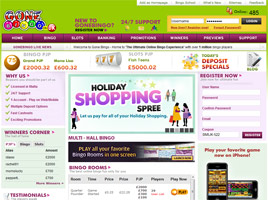 Collect your £70 bonus
At Gone Bingo, customers can expect to receive multiple bonus rewards just by opening a new account. There is no need to deposit any money to obtain £15's worth of free cash.
In addition, players can get their hands on a £70 bonus just by loading their account with £10. As well as having this deposit to play with, new users will receive an instant £30 as well as a number of bingo tickets with which to play.
bonus format: [£10 >> £70F]

Browse Other Offers

Bingo Bonus Offers
T&Cs Apply, 18+
£25

£25

£10

£20

£25

£20

£45

£15

£10

£10

£100

£50

£20

£30

£20

£150

£100

£40

£25

£50

£100
Related Articles
Full Review
Gone Bingo
Gone Bingo is part of the Chelbis Company Limited, an online provider of gambling services since 2007.
Chelbis claim to be the leading online gaming operator having taken nearly two million wagers from over three million registered users since their formation. Gone Bingo is just one of the 26 brands the company operates, a portfolio that also includes such names as the newly launched Charity Bingo and the United Colours of Bingo.
The Gone Bingo brand is 100 per cent owned by the Chelbis Company. The site takes its name from the term 'gone fishing' meaning to go on holiday or take a vacation. According to its 'About Us' page, Malta-based Chelbis hope to make ''gone bingo' synonymous with online bingo fun and entertainment'.
Bingo!
Customers can find tabs to information on promotions and deals ('Offers' - see the Customer Service section of this review), account information ('Banking') and a summary of how to play Gone Bingo on a portable device ('Mobile') on the Gone Bingo homepage toolbar. There is also a 'Support' tab should the user find themselves in a spot of bother mid-game or prior to their playing, and a 'Slots' option should the customer prefer to play casino games rather than the standard bingo fare.
Ignoring the copious amount of adverts that dress the bingo homepage, scrolling down will see the customer met with a series of links to different types of bingo rooms. Users can either choose to enter the room by selecting 'Play Now', or purchase a ticket without committing to dabbing along, with the 'Pre-Buy' button should they not be at their computers at the start of a game. These links contain a lot of detail so each new bingo-er knows what they are getting themselves into. Having said this, it is carefully and simply presented so as to not be over-facing.
The links display the type of bingo on offer, whether it is a 75-, 80- or 90-ball service, with each link colour co-ordinated to easily show which type of game it is (blue for an 80-ball game, red for a 75-ball game etc.); the link also shows time the game will start and how much it will be to buy into the game. Then there's such things as the prize, the jackpot and how many players are currently doing battle.
Unfortunately, there is no variety to speak of regarding these games. There's a lack of TV and film tie-ins and it all seems a little boring with no points of difference to get excited about. You play one room, you play them all.
Customer Service
Gone Bingo's 'Offers' page is a credit to the company's focus on customer service and speaks of their will to help their users get the most value and enjoyment from their visits to their bingo rooms. The 'Offers' page is divided into five tabs. The first 'Monthly Offers' tab displays a number of value deals themed to the particular month. As these promotions are fleeting, it is always worth keeping an eye on this page at the start and end of every calendar month.
Tab number two concerns available deals for new players, information about which can be found in the 'Bonus Offers' section of this review; whilst pressing the third tab reveals the table of 'Deposit Specials'. The jackpot for each game type is listed in the final tab marked 'Jackpots', though we are most interested in the penultimate page regarding 'Favourites', long-standing promotions to help each player get the most out of their Gone Bingo experience.
The first of these deals is a bonus cash amount for those customers who deposit money through the UKash or Money Bookers services. All payments paid in using these methods will be topped up by 25 per cent. There is a minimum transaction limit of £10 and a maximum of £500. Terms and conditions can be found through the 'Terms of Use' link at the bottom of the page.
Players can also receive a maximum bonus of 200 per cent through transferring their bingo habit to a number of selected chat rooms. Whilst information on the promotion is scarce, the summary of the offer beneath the 'Chat Games' heading on the relevant 'Favourites' page reads,
'Double-up on your play by playing the CHAT GAMES in the CHAT ROOM and you can receive up to 200% bonus bucks on your last deposit.' As well as a refer a friend scheme (see the 'Bonus Offers' section of this review), Gone Bingo also run a loyalty programme seeing customers build up points to trade for bonus cash. Every 1,000 loyalty points earned can be exchanged for 10 'bonus buck' with there being a cash-in limit of 2,000 points a week and 5,000 a month. Unlike the surprisingly ambiguous 'Chat Games' offer, the 'Loyalty Program [sic.]' tab is explained thoroughly. Interested parties should select the 'Know More' link beneath the relevant offer summary on the 'Favourites' tab of the 'Offers' page.
Bonus Offers
These free bingo tickets will be worth £30 and can be used in order to win the Daily Jackpot (20 free tickets to the value of £10); the Weekly Jackpot (10 free tickets to the value of £10); and the Bumper Jackpot (five free tickets to the value of £10). These tournaments can boast having winnings of £250, £500 and £1,500 respectively.
Terms and conditions can be found on the registration page. Sadly they are not available on the offer's relevant promotion page. Customers are also rewarded in the pocket for referring a friend thanks to the company's 'Spread the Word' scheme. Access this promotion through the 'Favourites' tab on the 'Offers' webpage.
Unlike similar offers at rival bingo sites, Gone Bingo referees will receive five bonus bucks as soon as their pal validates their account before receiving a windfall the equivalent to 100 per cent of their first deposit. The original player will also be credited with the equivalent of 10 per cent of any subsequent deposits their mate makes within 60 days. General terms and conditions can be found using the 'Terms of Use' link at the bottom of the page though there is a lack of specific terms for Gone Bingo promotions.
In Summary
The advantage of using Gone Bingo is definitely its simple layout, with all its games clearly explained before any money changes hands. There is, though, a lack of excitement about the website's design, and indeed the appearance of the bingo rooms. Without any variety in terms of television or novelty tie-ins it all feels a bit stiff and not particularly engaging.
Having said this, Gone Bingo should be applauded for their commitment to value deals and bonus offers as they attempt to offer their punters the best service they possibly can.
User Reviews