Think Bingo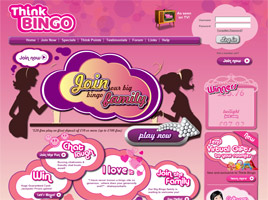 Think Bingo Bonus
Think Bingo's ongoing Welcome Offer for new players is £40 Free with a first deposit of £10. It is issued as a 400% match of the initial amount added to a new account. The minimum qualifying deposit is £5 and the maximum value of the bonus is £100.

Other Offers

Bingo Bonus Offers
T&Cs Apply, 18+
£25

£25

£10

£20

£25

£20

£45

£15

£10

£10

£100

£50

£20

£30

£20

£150

£100

£40

£25

£50

£100
Related Articles
Full Review
Think Bingo – The U.K.'s Oldest Standalone Bingo Site
Running its own proprietary software with some assistance from 888, Think Bingo launched its presence on the Internet in August 2004. Others have come and gone, but only Think Bingo has endured to wear the crown as the longest-running standalone bingo site in the U.K. It is owned by Cashcade Limited, registered and licensed for operation out of Gibraltar. No downloads are necessary to wager or play, and the site's main language is English. Tickets and prizes are denominated in British pounds.
Games to Play
Think Bingo features eight different game rooms for playing bingo online. Tickets are priced from as little as 5p. The web site takes special pride in its personal touch, striving to develop a feel of community among its 11,157 registered members.
One way in which this is accomplished is via the Think Bingo Forum, a section of message boards set aside exclusively for player use. It receives an average of 139 posts every day. This is where the latest news and information on competitions appears first. It also serves as the web site's gateway for receiving monthly cashback offers and becoming a Think Bingo VIP.
A broad selection of games is available on the site, played randomly 24/7 with more than £40,000 in jackpots paid out daily. Most games take between two and four minutes to complete, depending on the number of players participating and the type of game announced. There are £2,000, £5,000, and £10,000 Coverall Jackpots to compete for each day; 90-ball traditional cards are ongoing; and various 75-ball pattern games are scheduled throughout the day.
Of course, the chat rooms are constantly abuzz, not only with talk but also with 24/7 chat games conducted by friendly chat hosts. A recent innovation in the Think Bingo chat rooms is the introduction of "Virtual Gifts." These are graphic goodies that can be sent to one's roomies, ranging from cups of cyber tea and glasses of virtual wine to small dogs and even scrumptious-looking cupcakes. Just a click of the small parcel icon that appears at the bottom right corner of the chat window is all it takes to start gifting.
Bonuses to Claim
Think Bingo's loyalty scheme revolves around Think Points (TPs). These are earned for playing bingo games, winning chat games, participating in tournaments and competitions, as VIP awards, and in return for introducing friends to the site. For the latter, 5,000 TPs are given for every friend who joins and begins playing. When purchasing Bingo cards, TPs accrue at a rate of one per every 10p in tickets. Points can later be redeemed at a rate of £1 per 1,000 to purchase cards and play bingo.
Among the many regular promotions on Think Bingo are Snowball Sundays with £2,000 in guaranteed jackpot games starting at 6pm in the Thinking Newbies room. Another popular feature is Saturday Stash, offering some £3,000 in guaranteed jackpot games, also in the Thinking Newbies room.
Other special promos include Happy Mondays, Thursday Thriller, Party Fridays, and Think Tank, as well as Movie Madness, with a 50-inch Home Cinema System up for grabs, and Lappy Mania, where the top prize is a new laptop computer. Those who pre-purchase tickets are eligible for a lucky draw each week. Prizes range from a giant LCD television to a smart digicam. In total, £10k in guaranteed jackpots is available every week, too, from lots of £250 and £500 games to £1,000 guaranteed games every night.
User Reviews