888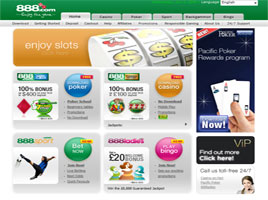 888 100% Deposit Bonus
888 are offering a 100% deposit bonus for both their Casino and Poker products. The Poker offering is 100% up to $400 on your first deposit and Casino on Net are offering up to £100 free on your first deposit.
They also offer other great deals such as first depositor freerolls and bonus points.
bonus format: [$400 >> $400F] (poker)
bonus format: [£100 >> £100F] (casino)

Other Offers

Sportsbook Betting Offers

View Offers
T&Cs Apply, 18+
£25

£50

£25

€22

£5

£20

£25

£30

£30

£5

£25

£100

€50

£25

£25

10%

£10

£100

£100

£25

£250

£25

£20

£25

£50

€25

£25

£88

Bingo Bonus Offers
T&Cs Apply, 18+
£25

£25

£10

£20

£25

£20

£45

£15

£10

£10

£100

£50

£20

£30

£20

£150

£100

£40

£25

£50

£100

Casino Bonus Offers
T&Cs Apply, 18+
£160

£200

£1000

10%

£800

£200

£100

£150

£150

£125

£500

£100

£200

£150

£175

£100

£150

Poker Bonus Offers
T&Cs Apply, 18+
$400

$500

€200

£470

$600

$600

$200

$600

€1000

£230

£100

£450

$600

£150

$500

$500

$500

General
Full Review
888 Company Information
When it comes to giants in the online gaming industry, 888 is a name that certainly stands head and shoulders above the rest. This site has about everything a gambling fan could want on the Internet, including a sportsbook, two different casinos, a bingo hall, and a poker room. Frixo will take a look to see how these offerings stacked up against the competition.
History
888 has been around almost as long as the Internet itself, establishing itself on the web in 1997. Thatís right, this company has been in Web operations since the Web itself began to lend itself to commercial applications at all.
The sites started out with a casino only, which opened its virtual doors in May of 1997. Since then, the site has served over 13 million customers. Second offering by 888 was an underwater themed casino, Reef Club Casino, which came into being in May of 2002. Pacific Poker was next, launched in July of the same year. A bingo hall was added through acquisition in February of 2008, with a sportsbook following a month later.
What all this adds up to is a one stop site for all your gaming fun through a company with a good reputation earned through years of service. But, is it FUN?
Set up
The best word to describe the 888 landing page is LOUD. Perhaps because it is a product of the early Internet days, the company seems to refuse to accept that a toned down look is more ďinĒ Ė not to mention more manageable for the user Ė than the bells and whistles so popular at the turn of the millennium. Youíll find plenty of distracting graphics and even an annoying pop up once you arrive!
Despite the garishness, there are some well organized tabs that can help you navigate once your vision clears from the initial assault. You can access the room you want to play in at the top of the page, or take a look at the published information that 888 has available just underneath (more on that in a bit).
Sections
Casino on Net: It looks as though the underwater theme is history, with 888 sticking to its first casino offering. Here, you will find hundreds of different games including a wide variety of slots, roulette, blackjack, craps, keno, and baccarat. The site offers a free non-download version of the casino and a download one as well. Both are a lot of fun and can be accessed quite quickly; those looking for more detail will prefer the download version the best. Game play is smooth and realistic, with the Crazy Blackjack variation with multiple hands and side bet options worthy of particular mention.

888sports: 888 is up against some stiff competition when it comes to the online sportsbook offering. Very much a newcomer, we found the 888 book (888sport) didnít stand out enough from offerings by companies such as Ladbrokes and Bet365. Itís professional and there are a lot of sports and bet types available, and we also like the amount of information available for handicappers and sports fans alike.

Pacific Poker: Pacific Poker on 888ís site is quite a lot of fun. The competition compared to most sites is fairly easy, without the usual sharps that haunt competitors on Poker Stars, Full Tilt, and other big name players in the game. The rooms are colourful and the avatars in particular are a lot of fun, but it is worth mentioning that the rake structure is quite strange compared to other sites.
888 Bonuses
If thereís one thing that 888 has in spades, itís promotions. Every section of the site is loaded with offers designed to entice players to come in, from sign up bonuses to poker bad beats and casino preferred customer points schemes.
With all that the site has going on, and its extensive life span, you would think it had the most crackerjack customer service options out there. However we found that when put to the test the options available were slow, and help was a fairly loose definition of what we received. It was fairly clear the individuals who responded did not have in depth of the product they were talking about.
888 has a broad offering of goods, but in all areas they tend to lag behind sites which target specific areas. Itís a good place to go for those looking to get their feet wet in online gaming, and have some fun without a lot of stress while theyíre at it.
User Reviews
ricky
bonus free spins tie all your deposited money in a bonus rule that says all money has to be wagered several times in live play casino , blackjack ,poker and roulette etc, with only high risk bets!, making it vertualy impossible to cashout even your deposited money. total con!
bud
you have to wager $4000 before they allow you to withdraw, total con
Joe
Do not use this casino TOTAL CON as most are. I played my own version of the martingale system and was doing ok until they hit me with 14 yes FOURTEEN blacks in a ROW